This post may contain affiliate links. Read my disclosure policy here.
Okay – Julia and I are not scheduled to conquer Mount Everest this year, but I sure do pack around a lot of stuff for her and Jackson. And I have had the worst time finding the right bag to carry it all.
When Jackson was a baby, I quickly gave up on my diaper bag and used a backpack instead. I preferred the comfort and ease of a backpack to the awkward shape of my big diaper bag.
But there are some problems using a regular backpack for a baby – there is no place for keeping bottles cool, not enough pockets and no changing pad. And worst of all everything sinks to the bottom and I end up carrying around 5 pairs of socks and clothes from last season that I forgot were in there. But even with the drawbacks, I preferred a backpack and still use one now to pack Jackson's gear, although I often have to carry a lunch pack/cooler as well.
So, I gave my barely used diaper bag to Susan and she has used it a bit for Julia. But she too hates that it is too big and most often she just uses her purse (and hopes she doesn't need a changing pad) and brings Julia's lunch pack for her snack and sippy cup. While this may be ok for short trips and when it is only Julia, when one of us has both Julia and Jackson, this means a lot of extra stuff – two bags, two lunch kits and a purse.
You should see me trying to lug everything to the car – I don't even have a free hand to hold onto Julia! So when I go to the beach or to the park, it is impossible.
So, you can just imagine my excitement when I saw the Baby Sherpa. No – this bag doesn't carry the baby! It carries the baby's stuff, just like the Sherpa people help tote the climbers' gear up Mount Everest.
And it answers all the needs of a Mom or Dad:
Diaper bag
Cooler
Soft-sided pocket for video camera or breast pump, etc
Pockets for wallets, sunglasses, keys, cell phones, etc
Mesh bottle holder
Insulated bottle holder
Oversized diaper change pad
Ergonomically designed with waist, sternum and padded shoulder straps
Is available in two sizes – short haul and long haul
The Baby Sherpa turns all of this: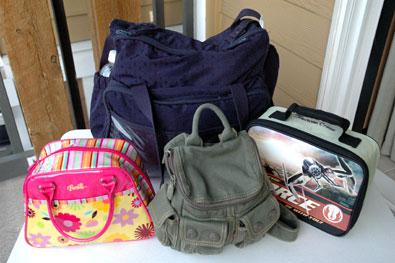 Into one organized bag:
The cooler is huge – and can hold water bottles standing upright! It definitely fits drinks and food for two kids or more. And if you don't need a cooler, it works as a great compartment for extra clothes for longer trips or for wet clothes at the end of the day at the beach when the food is all gone.
The pockets are so convenient and the bungee and toy loops make finding a place for those extra items simple.
In my Sherpa today, I have sets of clothes for the kids, diapers, wipes, hand gel, lotion, sunglasses, toys, water bottles, baby bottle, food, sippy cup, etc, and the contents of my purse – cell phone, wallet, make-up, gum and keys.
If you are on the go, hiking or traveling, the Sherpa is the perfect bag. It even fits as carry on luggage for all airlines. For day trips to the beach or just as your all-in-one diaper bag, the Sherpa will have you well prepared.
And if you want to pack light – go with the Baby Sherpa Short Haul. It is a compact version of the original and is perfect for around town. (This one is on my wish list for sure!)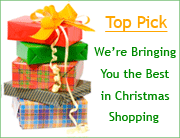 And best of all – the Baby Sherpa is Mom-designed!
Heather Campbell-Dewer, an active Canadian mom, came up with the Baby Sherpa when she was unable to find a bag to meet the needs of her active lifestyle.
With all this going for it, the Baby Sherpa is definitely one of our Top Picks for Christmas!