This post may contain affiliate links. Read my disclosure policy here.
Trimming the Tree
Did you miss me this weekend? I wasn't out in the blogosphere much – but please forgive me – I was tackling my house! I missed you all, but I had a ton to do. Not only was the house in chaos, but I wanted to get the Christmas decorations up.
My hubby did the outside lights and the kids and I did the inside. We had a ton of fun.
(My basement is still in progress – I will be continuing to tackle it this week and will report to you all next week.)
Starting out, things looked pretty scary.
Even Julia was concerned…

(If you are wondering, Julia was over – I babysit her while Susan works – and I forgot to bring her pajamas. So she is wearing an old pair of Jackson's.

No she is NOT a boy!!!)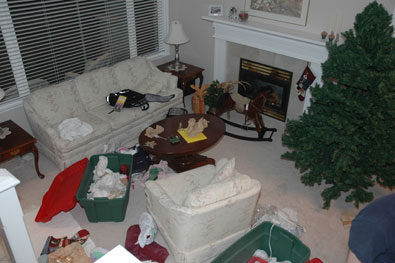 It took a few days to finish it all.
Jackson put the angel on top with a little help from his dad.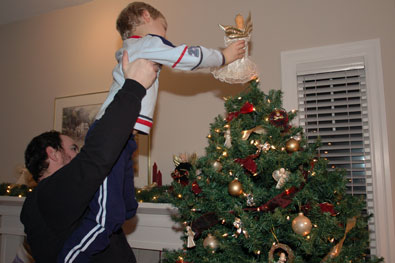 But we did it! Our Christmas Tree Is Ready…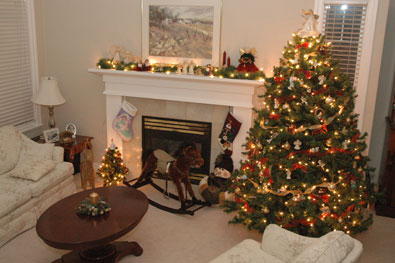 Join Us For Tackle It Tuesday

We're making housework blog-able!

Each week on Tuesday, we are posting before and after pictures of a project or trouble area that we tackled this week.

Find out more about Tackle It Tuesday here.

The project can be little or big – whatever you want. Basically, Tackle It Tuesday is about giving ourselves incentive, deadlines and satisfaction in getting our household tasks done.