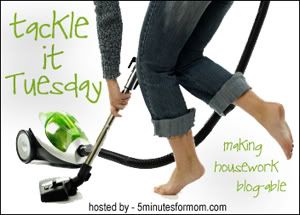 My fridge was stuffed with leftovers today and I really wanted to clear some room and use up some of the food before it spoiled.
When Susan and I were talking on the phone just before dinner time, I suggested she and the kids come over for dinner. It would give our children a chance to play and me a chance to get rid of some of the extra food!
I took out the containers and took stock of what we had.
There was lots of barbecued chicken (and one piece of steak) left from dinner on Saturday night.
I fried up the potatoes… yum… garlic.
Then I added some more veggies to the fried brown rice and heated that up.
I served the kids the potatoes, rice, and drumsticks, with some fresh tomatoes, cucumbers and avocados. I had to stop and take a photo of Livvie devouring her chicken though…
That girl is our carnivore!
I served Phil the steak and a bowl of fresh tomato, cucumber and avocado salad. But he dove in before I got a picture. 😉
And then it was time for Susan and my dinner.
I used the one piece of leftover white meat for us. (I prefer white.)
And made us salad wraps. If you are wondering how we possibly roll them up, we eat half of it with a fork and then roll up the remainder. (I used my Olive Oil, Balsamic Vinegar with Dijon salad dressing.)
And now my fridge has some room for the next load of groceries!
What did you tackle this week??? Link up and show us. 🙂
Would you like to post as a guest tackler? Submit your guest tackles to be featured here at 5M4M. You can write Susan at tackleittuesday at gmail dot com. Remember, we are here to promote your site!
Each week on Tuesday, we are posting before and after pictures of a project or trouble area that we tackled this week.

Find out more about Tackle It Tuesday here.
The project can be little or big – whatever you want.

Basically, Tackle It Tuesday is about giving ourselves incentive, deadlines and satisfaction in getting our household tasks done.

(It doesn't even have to be housework… just whatever is on your To Do list.)
If you tackled a project this week, just add a comment and add your link below.
The mcklinky.com site appears to be down tonight. So we are trying to go back to Mr. Linky tonight… Our apologies for the delay…
Happy tackling ladies…
Written by 5 Minutes for Mom co-Founder, Janice Croze.