This post may contain affiliate links. Read my disclosure policy here.
by Sarah Normandie
When our Elf on the Shelf first arrived two years ago, I wasn't sure what kind of mischief he would get into. We live in a small space, making it a challenge.
There are only so many spots to hide our elf, while also protecting him from our son's tiny toddler hands. We also have an eight-year-old daughter to keep amused.
Here are some of the unique adventures our elf has endeavored that have quickly become family traditions.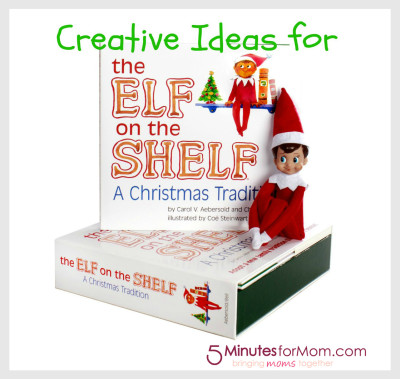 The Arrival
Our elf arrives the day after Thanksgiving, wrapped in his holiday best. Since he's been gone an entire year, he usually has had some sort of makeover. Last year, I sewed a new fur collar on his red top. This year he'll have a new plaid scarf.
Though it can be difficult to change his look each year, (and why would you want to, he's so cute!) – it's fun to add some extra touches. Hawaiian printed Ken doll shirts are cute, especially if your elf has been on a "vacation".  Barbie or other doll clothes, even if a little big, could be used to dress up your girl elf.  Jingle bells sewn on, or other props also work wonders.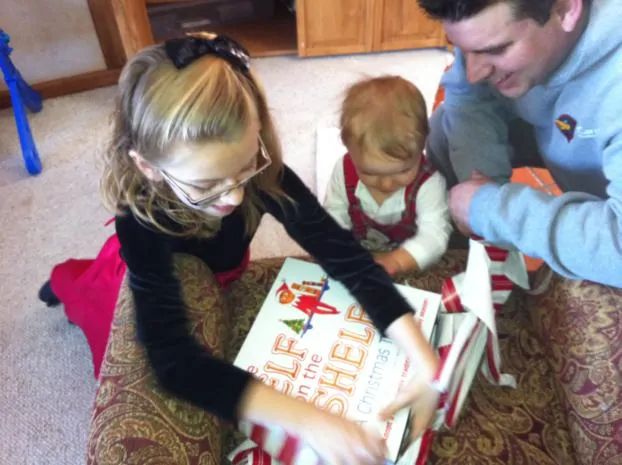 Elf Pen Pals
Of course, most elves come with a book. But to make things more personal, our elf writes letters. His letters are printed on "North Pole Stationary" made on the computer.  He writes about his relaxing vacation, how excited he is for Christmas, and reminds the kids to be good listeners. My daughter writes back (since my son is still too little), sharing her wish list, her Santa questions, or anything else on her mind.
Of course, it can get exhausting writing back and forth, so our elf writes just once a week. That's only 5 letters including one on Christmas eve-which is typically his goodbye till next year.

Elf Mischief
At our house, elf mischief starts slow, and escalates the closer it gets to the holidays. For example, the first week he just hides.  Some favorite hiding spots have been driving Barbie's Corvette, riding in Thomas the Train, hanging from the ceiling fan, and peeking out of the dollhouse.
Then, he starts hiding toys, spelling his name in Cheerios on the kitchen counter, and leaves cookie crumbs on the kitchen table with half eaten cookies. This is when things are just getting interesting.

The Great Cookie Surprise
Our elf is a huge fan of holiday cookies and often writes about his love of baking in his letters. This is followed up by our cookie surprise. Each year, I plan a day when my husband and I take the kids out, and upon our return, our kitchen counter is magically littered with cookie baking essentials.
We always find our elf on top of the fluff container, armed with his weekly note, and a printed recipe list.  The kids love this. Of course, we enlist in the help of our own "secret elves" to set this up.  Our elf has also been known to leave art supplies for holiday crafts, and on Christmas Eve, he leaves holiday pajamas.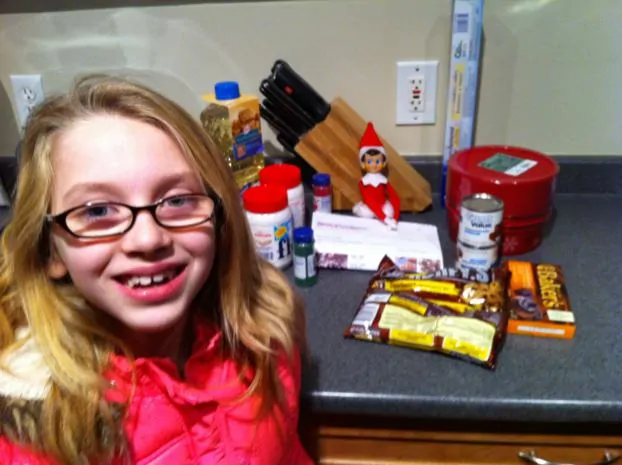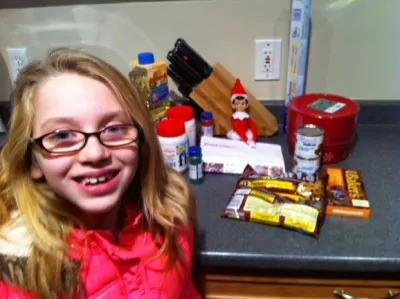 The Great Escape
The grand finale is the "Great Escape". I highly suggest your elf do this very close to Christmas, because it's hard to beat this surprise.
First, no one can find the elf. He isn't hiding in his typical spots and hasn't left any letters for a couple of days. This usually causes temporary upset. But don't worry; it will be worth it.
I'll pick a day to tell the kids we have a lot of errands to do. But when we try to leave, we find our car parked sideways, the doors wide open, and holiday tunes blaring from the radio. Our cute little elf is positioned safely on the dashboard. He leaves a note on the car seat with driving directions to see Santa. This always makes the kids squeal. They can't believe our elf drove the car!
However, the tricky part is smuggling the elf from the car after seeing Santa. You need to hide him in the house so it appears he returned home hours before you.
As you can see, there are many creative ways to enjoy your Elf on the Shelf. These are just some ideas to inspire you.  The Elf on the Shelf can become an everlasting tradition for your family. By keeping it magical and fun, you are sure to give your children memories that will last a lifetime.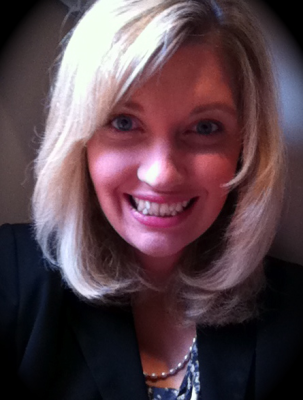 Sarah Normandie is a stay at home mom, law student, and writer.  She has an MA in early childhood development, and several years of early childhood teaching and education management experience. In addition, she has been a student in the UCLA Writer's program, where she penned my first novel, The Broken Girl. She is currently seeking agent representation. Find her at http://redroom.com/member/sarah-normandie.