This post may contain affiliate links. Read my disclosure policy here.
Last year, my daughter and I discovered a craft that took about 15 minutes to make, and offered her hours of entertainment (and no electronics were involved!) She has always loved oobleck, putty, and slime at the stores, so I started researching online and found out that you could make homemade slime at home. The ingredient list was basically already everything that was sitting in my laundry room, so she and I got busy creating!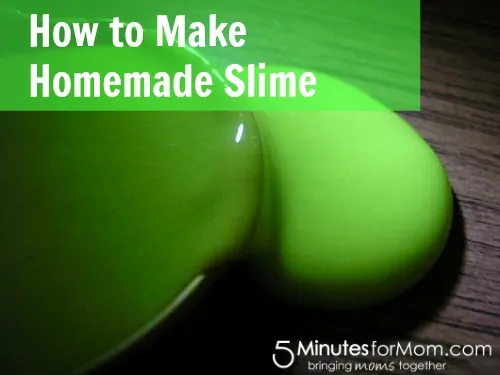 Step 1: Gather Your Ingredients
Two mixing bowls
Measuring cups and spoons
Glue
Borax
Green and yellow food coloring
Water
Step 2: Mix According to the Directions
Mix together 3/4 cup warm water, 1 cup glue and several drops of green food coloring in the first bowl.
In the second bowl, mix together 4 teaspoons borax and 1 1/3 cups warm water.
Pour the contents of the first bowl into the second, but don't stir. Let it sit for 1 minute, then lift the now-congealed slime out of the bowl.
Divide slime so that each child has a piece to play with. The glue in slime can make it stick to certain fabrics. To minimize accidents, give each child a zip-top bag to store it in.
Step 3: Just Have Fun!
It's really easy to make and has a great Science lesson behind it if you look it up online.
You can see all of our images and the fun we had by clicking on the collage above. I created a storybook using Photobucket and entered it into the Life's An Adventure Storybook contest! You can create a storybook too, and possibly walk away with $25,000!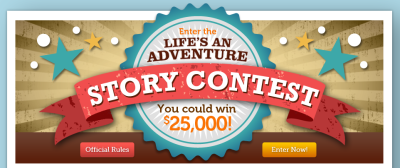 From the everyday to the epic, life is packed with adventures. Create a Story about one of your adventures and you could win $25,000!
The new Photobucket Stories
Stories are a new way to share your memories with more detail and richer design. In minutes, you can combine your photos, videos, and words, transforming your pictures into a living Story.
Win amazing cash prizes!
Grand Prize Winner: $25,000
Five Runners-up: $500 each
Start creating your Story on the all-new Photobucket! Contest ends 12/9/12.
Here are some great story ideas to get you started!
The first day of school
A big move
Getting married
Traveling overseas
Learning a new hobby or sport
Redecorating anything
A fly-fishing trip
Training for a charity run
Hosting an exchange student
A new pet or baby
Visiting the zoo
Road tripping in college
Auditioning for a reality TV show
Hosting a BBQ
Picnic in the park
Trip to the farmer's market
Making your own baby food, pasta, cakes
Hop on over and enter your story today. It takes just a few minutes to get your story together! Hurry. This contest ends December 9th, 2012.
This post is part of a sponsored campaign with Photobucket. All opinions listed are my own.