This post may contain affiliate links. Read my disclosure policy here.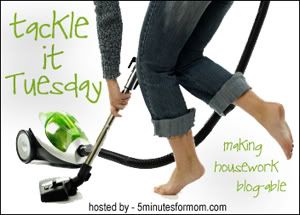 Okay Ladies, I think it's time we all put down our dusters and tackled something a little different…
It's time to tackle…
Our Fear of the Video Camera!!!
Yes, I know it… many of you do NOT like seeing yourself on video. And hey, I'm right there with ya. I don't like what a video camera does to me either.
I think it is fair to say EVERYONE looks better in real life than they do on video. There's lighting weirdness that creates scary shadows, shiny reflections off our skin and of course the whole camera adding ten pounds issue.
But, I'd venture to say that the payoffs of connecting with your audience and growing your relationships are worth the humbling kick in the pants of seeing a subpar version of yourself on video.
And especially now… there are so many fun ways to use video to connect and build your friendships. Of course there are the fundamental video blogging posts that you can create and publish on your own blog, but there are other ways too…
As you may have noticed, we are big on two new ways to use video to connect and build our online friendships.
The first is our new video conversation site Say It Face To Face. And the second is SnazL.
The best part is that they work together wonderfully and provide two more ways for you to gain new viewers and readers. You can see in our previous snazL parties how we tie in our Say It Face To Face video conversations and reuse our YouTube hosted videos in both sites. You can also embed those same YouTube videos on your own blog as vlog entries.
To get started with video blogging, you must tackle three main things:
1. Your fear of being on video.
2. How to use your video camera and how to upload videos to YouTube.
3. Start to use sites such as Say It Face To Face and SnazL.
Step 1. Your Fear Of Being On Video
In our new BlogFrog community, I posted the question: Are you scared of video cameras?
And so far the response has been as I expected. Yes, women are afraid of being on video.
There were also two other interesting comments…
One comment was from J of Smile, Laugh or Die about privacy.
I worry more about the privacy issue. you know my face floating around space and me saying something totally crazy, ooopsy.
I see what J is saying… If you do not reveal your name and photos on your blog, then privacy becomes an issue if you're revealing your face on camera.
My response to the privacy issue is to perhaps use a subtle 'disguise' on camera. For instance, you could wear a fun large hat that partially kept your face in a shadow or you could wear a fun wig and sunglasses. If you have an online pen name, why not create a fun online character that you reveal in video?
The second issue was raised by Mrs M from I've Changed My Name To Mommy
I don't want to burst anyone's bubbles if I come across differently on video than they had pictured me in their heads. I say this because I have actually stopped reading blogs for that very reason, and if I have felt that way others probably will too.
I think that is a very interesting point… and I think I'd say that while you may lose some readers, I believe that you stand to gain stronger relationships with those that continue reading and that you'll grow your readership to include others who know and love the real you!
But that said… I get where Mrs M is coming from. Seeing a photo or a video of someone after you've been reading their blog with only your own image of them in your mind can be like seeing a movie after you read the book. Disappointing. But again, I think the losses are not as great as the potential gains.
However… Mrs M's concern reminds me of a very important point…
Keep your video blogging in tune with the same tone as your written blogging. You will definitely lose readers if your blog is family friendly and suddenly you publish a video cursing and talking about sex. That would be very disappointing for your readers.
So overall, if you are scared of seeing yourself on video, go look at me in curlers and realize, it's not that big of a deal. If you have privacy concerns, consider finding a creative way of presenting your online persona. And when you start publishing video, keep a consistent voice that matches your blog.
Step 2. How To Use Your Video Camera and Upload to YouTube
We will be publishing many more posts here at 5 Minutes for Mom with helpful hints about recording and uploading video.
But for the moment, I want to send you over to my friend Jendi…
Jendi has been a rockstar over at Say It Face To Face and on SnazL. She has a site called Simple Vlogging Tips and she's got great advice to help you get started.
One reason we created Say It Face To Face was to help people get started vlogging. It can be hard to think of what to record a video about… but it's usually pretty easy to answer a question or think of a question to ask your friends.
Using Say It Face To Face is quite simple. The videos are all hosted on YouTube, so if you can upload a video to YouTube, you can use Say It Face To Face. (Heck, even if you can't upload a video to YouTube, you can use Say It Face To Face, by using our Record Live option.)
But if you have any questions using the site, just Tweet or DM @5minutesformom and I will personally walk you through it.
And SnazL…
You gotta try SnazL.
We've had three SnazL parties so far and we have another this Thursday at 2pm Eastern where we'll be talking all about the good, the bad and the funny of vacationing with kids.
You can watch our earlier SnazL parties, to get a feel for how it works…
(But keep in mind the most fun part of the SnazL is the LIVE TEXT CHAT that happens during the scheduled party. And you don't need to do any video to have fun with that.)
Week 1: Welcome To Our SnazL Birthday Party
Week 2: SnazL – Blogging Tips
Week 3: SnazL – Online Friendships
Here's what our first SnazL looked like…
Three, Two, One… ACTION
Start simple.
Go over to Say It Face To Face and watch some of the video conversations that are happening.
Record a simple reply to a conversation.
Join our next SnazL party.
And rejoice that you've tackled your fear of video!
But in the meantime… back to housework… LOL
Tell me what you're up to with all your other tackles… housework and otherwise… add your link to your tackle in the Mck Linky below!
Each week on Tuesday, we are posting before and after pictures of a project or trouble area that we tackled this week.

Find out more about Tackle It Tuesday here.
The project can be little or big – whatever you want.

Basically, Tackle It Tuesday is about giving ourselves incentive, deadlines and satisfaction in getting our household tasks done.

(It doesn't even have to be housework… just whatever is on your To Do list.)
If you tackled a project this week, just add a comment and add your link below.
Happy tackling ladies…
Written by 5 Minutes for Mom co founder, Susan Carraretto.
Do you have our feed in your reader?