This post may contain affiliate links. Read my disclosure policy here.
UPDATE: The winner is #1 – Jessica.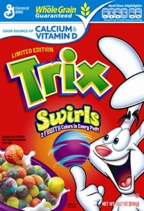 Thank you so much to everyone who took the time to enter our Trix Swirls Creative Kid Video Contest! I hope your kids enjoyed the Trix Swirls as much as we enjoyed watching your videos!!!
To recap for our readers — A few weeks ago we sent out boxes of the new Trix Swirls cereal to some lucky readers. Those lucky taste testers then made and submitted videos of their kids answering the question: "How did those fruity colors get swirled together?"

After viewing all of the video entries we narrowed it down to 10 finalists. Let me tell you, you guys did not make our job easy when it came to narrowing it down! They were all so great!!! But we managed to do it and are excited to present to you our Trix Swirls Creative Kid Contest Finalists (in random order).
Now the really tough job is on you, our readers! We want you to watch all 10 videos and vote for your favorite. Look for creative! Look for entertaining! The finalist with the most votes by Friday, September 4, will win the grand prize of $1000 and our runner-up will receive $300!
Please note: Democracy poll allows one vote per ip address!
If you are a finalist, please feel free to announce it on your blog, Facebook, Twitter or other social network site, that is fair game. But please play fair and do not use proxy servers or other black hat methods of increasing your votes. If we do discover unfair practices, we will have to disqualify the parties involved. Remember the spirit of our site and play nice!
Thank you so much to Trix for supplying those wonderful prizes which the winners can use towards classes and/or educational materials — just in time for school!!!
Ok, once again, here are our finalists (in random order):
1. Jessica

2. Brandy

3. Amanda

4. Dezi Allen

5. Bess

6. Sally Sansom

7. Noreen

8. Jean M.

9. Keonte @ Mommy 2K

10. Deb @ Mom of 3 Girls

UPDATE: The winner is #1 – Jessica.
Vote Now
UPDATE: The winner is #1 – Jessica.