This post may contain affiliate links. Read my disclosure policy here.
by Adrienne May
The moment you tell your kids, "You cannot have any more Christmas candy" or "No more cookies for you," they're going to start dreaming in gingerbread men and candy canes.
So in order to keep their tummies in check this holiday season, you'll need to embrace a policy of moderation – for both you and them – and keep some holiday treats out of your house altogether if possible.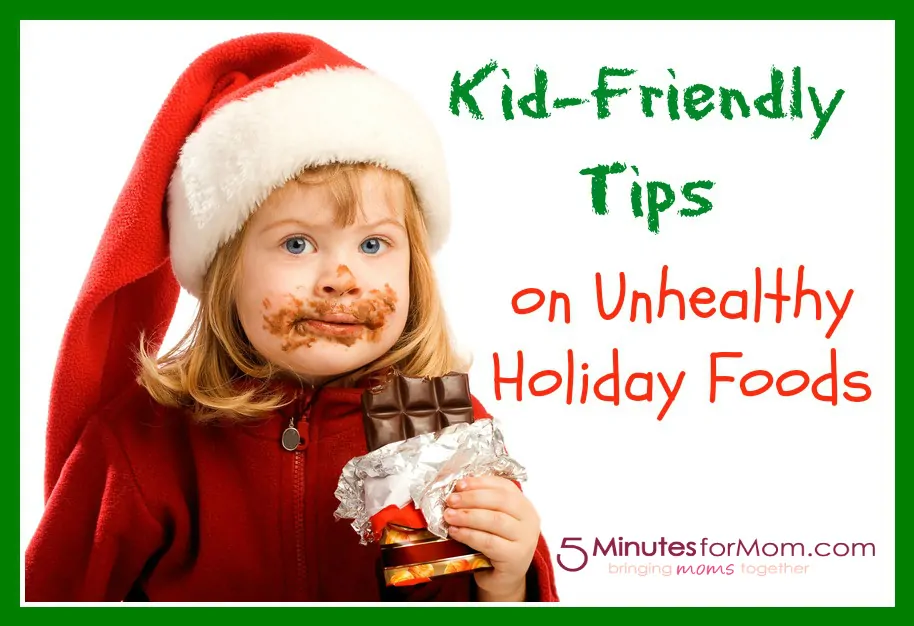 Indulge in Moderation
It would seem like a mission even Santa Claus himself wouldn't sign up for if one wanted to avoid sweets altogether this holiday season. Everywhere you go there are frosted cookies filling up colorful trays, chocolate-dipped things or fountains to dip things in chocolate, candy-stuffed stockings, pudding  and fruitcakes (if you're at a relative's house you'd rather not visit).
If you label every sugary item with a "no," you might as well color it in neon for your kid. Instead, allow them to indulge moderately in such treats. But try to stick with lower-sugar and higher nutritionally valuable versions if you can – for example opting for an oatmeal cookie instead of a run-of-the-mill chocolate chip or pumpkin pie instead of a more sugary apple version.
Read the Labels
There are also plenty of salty snacks to be seen at holiday parties and family get-togethers around this time of year. Make sure you read nutrition labels where available because sodium can be even sneakier as an ingredient than sugar.
But if you're at a party with a bunch of unlabeled foods, limit the chips and dips your kids eat – and stick to pretzels with low or no sodium, raisins, crackers, veggie and fruit trays without the high-calorie dip, and sandwiches  when there's something to choose from other than just processed meats and cheeses. And whether or not sodium is an issue, double dipping is never safe or recommended for you or your child's sticky fingers.
Food Allergies
Also keep in mind when at various holiday occasions any food allergies you might have. While you may not stock peanut butter in your pantry if your child has a nut allergy, there's a likelihood a holiday cookie or two you see might be sprinkled with some form of nut. If an allergy is severe and you're headed to a party with people who are unfamiliar with your child's particular aversion, it might be helpful to chat up the host beforehand or bring your own kid-friendly item to the occasion.
All this moderation will do you, your waistline and your children a whole lot of good and keep you from emerging after New Year's with a sugar hangover. You won't even have to make a resolution about nutrition or food because both you and your kids will have your eyes on nutrition labels and your hands out of the cookie jar – at least 98 percent of the time – during the holiday revelry.
Adrienne May is a military spouse and the featured author for Military Spouse Central, offering  news and tips to an active social network of over 100,000 military families. Follow her on Google+ or send her a tweet @AdrienneMay.
Photo: Deposit Photos