This post may contain affiliate links. Read my disclosure policy here.
We put on her uniform and giggled with excitement. Then, as a family, we walked together to her brand new school, allowing Audrey to walk just a little bit ahead of us. She is, after all, a big girl now.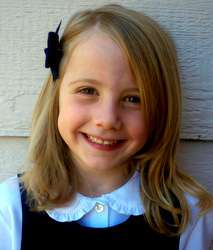 I smiled as I observed her huge grin and eyes filled with a hint of apprehension.
Today was Audrey's first day of Kindergarten. I still can't believe how quickly time has passed. It feels like just yesterday she was learning how to crawl.
I admit, I keep glancing at the clock, anticipating my drive to pick her up. I am looking forward to hearing all about her first day.
I have to tell you, when we first put on her uniform, I had a tear in my eye. She just looked so darling….so grown up.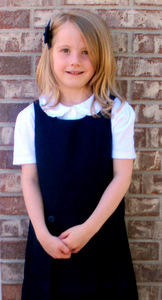 I purchased her school uniforms at Lands' End. It was my first time purchasing anything from Lands' End, and I am VERY impressed with their quality.
And speaking of Lands' End, tomorrow we are having a Back-To-School Lands' End Twitter Party.
There will be experts on hand, as well as some fun mingling. We are going to be asking you some questions about your elementary school days, quizzing you about back to school products you can find at Lands' End and offering you chances to win Lands' End backpacks, lunch packs and gift cards.
The fun starts tomorrow night at 7:00 pm Central (that is 8 pm Eastern and 5 pm Pacific). Be sure to use the hashtag #landsend.
It will be a lot of fun. I do hope that you will be able to join us. Don't forget to RSVP.
Written by 5 Minutes For Mom contributing editor, Erica.