This post may contain affiliate links. Read my disclosure policy here.
I think when most of us dream of a father for our children, he looks and sounds something like this…
Kodak Father of the Year — Jeff Morris
If you watched that video, I think you'd agree that Jeff Morris defines a good father, and you'd understand why he has just won the Kodak Father of the Year Award!
Here is what his children (written with help from his wife Shannon) have to say about Jeff…
Our dad is the father of the year. Without any doubt.

As a stay-at-home-dad to four young kids (Julia, 9, Anna, 7, Adrian 5 and John 3) he has mastered pony tails, laundry, potty training, cooking with Rachel Ray, homework and housecleaning.

He gave up his career as a high school math teacher so that mom could focus on hers, and never once acted like he should get an award for it. He shows up at the pool with the kids and chats with all the moms, he makes pumpkin bread for the attendance office, he makes conversation with moms at nursery school drop off, he signs up for snack duty and is proud to get savings from coupon mom.com.

Our dad teaches us every day that family comes first and, in his own extraordinary way, delivers guidance, passion, sincerity and tolerance daily. He finds time to be the best soccer and softball and baseball coach while covering off on every need as the dad to three growing girls and one little guy.

The role model he is – never giving our children any doubt that both dads and moms are capable of making the house a home – is one that is award worthy. He applies his professional expertise as teacher, his BA in finance and MA in administration in ways I am sure he never imagined possible.

The end result? Father of the year.

We are honored to award Jeff Morris with the Kodak Father of the Year Award and send him (and his wife) on a luxury golf trip.
Congratulations Jeff!!!
Your grand prize package includes: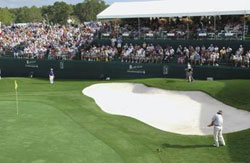 Accommodations for you and a guest (one room) for the duration of the Children's Miracle Classic
Two tickets for each day of the Children's Miracle Network Classic tournament
Roundtrip airfare for two to Orlando, FL
Round of golf for two at a Disney Golf course
Kodak golf-related product package
Honorable Mention – Dave Bolda
As you can imagine we had so many wonderful nominations for this award and announcing the finalists was hard. The final videos that were submitted were all so touching and choosing just one was difficult.
We want to include a very honorable mention here… we also want to recognize this awesome father and grandfather… Dave Bolda.
Here is his nomination written by his daughter, Amy:
My father has helped shaped my life in so many ways. He has made me who I am with his wonderful example!

He is the most Selfless, Kind, Loving, hard-working, loyal and most caring man you will every meet!

He has been a dedicated police officer for over 30 years now. Which isn't the easiest job! He has been wanting to retire for over a year now but has just been recently diagnosed with stage 4 lung cancer and has had to take some time off for surgeries or treatment.

He still puts in his 40 hours a week at the police station and has second night job he works during the week as well to help pay the bills. He takes Fridays off to relax and play some golf! His most favorite sport in the whole world!

Through all this he has been a tremendous example to his family and friends with his amazing attitude he is so positive and happy all the time! He has helped us keep a positive attitude with this cancer and that he can and will beat it! He always says that "miracles happen every day" and is determined he will be one.

Any other spare moment he has he spends it with his family and grandchildren who he adores! He would do anything for any of us at anytime we needed him. My father has worked so hard his WHOLE life and deserves a break. He is a wonderful man!

He is not on my dad but he is my idol and my best friend! I love you dad!
Dave Bolda is clearly an amazing man and is an inspiration. Thank you Dave… we wish we had another prize for you… you do deserve a mountain of prizes.
To all the good fathers out there…
Good fathers are precious gifts that not everyone receives. We are so happy to recognize these outstanding men who are showing the world what fathers can and should be.
Thank you to all the men out there who are committed to being awesome dads. You each deserve an award. (And yes, that includes my husband too. My husband Rob is a wonderful father to his two girls and they love him so very much. Thanks Honey for all you do.)