This post may contain affiliate links. Read my disclosure policy here.
I have always felt that one of the best part of Thanksgiving is the leftovers that you get to bring home, and I love coming up with new ways to use those leftovers outside of the traditional meal.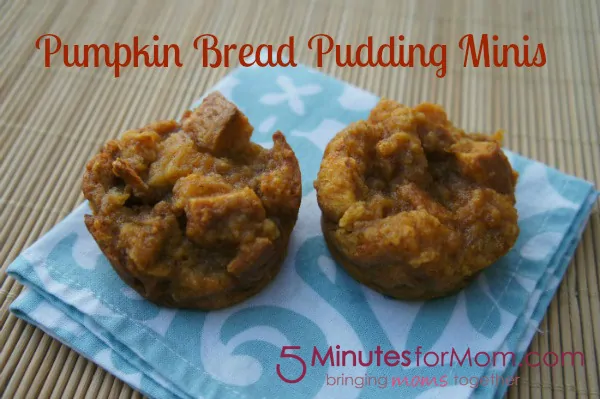 Who doesn't love a nice, hot buttered roll with their holiday dinner? I love all of the various dinner rolls that my family brings to our family potluck-style holiday dinners, but we always seem to throw them out after the meal is over. By the end of the day, the rolls are a bit stale and they don't tend to reheat very well in the microwave.
I found an awesome idea for using leftover dinner rolls, as well as any pumpkin puree you might have left over from that Thanksgiving pumpkin pie! I took a traditional bread pudding recipe, and added a bit of a fall flavor by adding in pumpkin pie spice and a bit of pumpkin puree.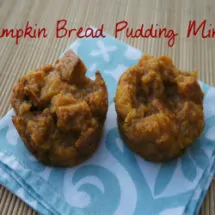 Ingredients
4 cups dinner rolls torn into pieces
4 eggs
1 1/2 cup milk
1 cup heavy cream
3/4 cup pumpkin puree
1 cup granulated sugar
1/2 tsp salt
1/4 tsp nutmeg
1/2 pumpkin pie spice
1 tbsp cinnamon
Instructions
Preheat your oven to 350 degrees and grease a muffin tin.

Whisk together all ingredients except for the bread in a medium bowl, then fold bread in, evenly coating with the pudding mixture.

Fill each muffin tin with the pudding mixture and bake at 350 degrees for 30 minutes.
This pumpkin bread pudding also does well in the traditional baking pan, but I love these minis because it's so easy to keep portion under control – and they're the perfect size for the little ones!