This post may contain affiliate links. Read my disclosure policy here.
Update: We have our winners…

Our most active user is Toni and our random winner is Deb – Mom of 3 Girls.

Our most honorable mention is Jendi. Jendi has been such an amazing contributor and I LOVE her conversations and replies. Thank you so much Jendi.
You only have a few more hours to try to win $500 or $250 at SayItFaceToFace.com.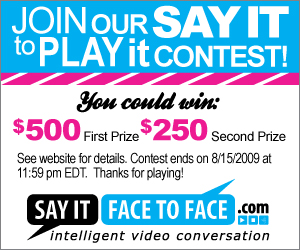 All you have to do to enter is set up your account on SayItFaceToFace.com and start using the site. On August 15th at 11:59 pm, the user who has the largest number of conversations and replies will win the first prize — $500 cash. And second prize — $250 cash — will go to a randomly drawn user.