Say It Forward – Carnival of Loyal Commenters is a new weekly carnival at 5 Minutes for Mom.com where bloggers feature their loyal commenters!

To read more about how to participate in Say It Forward and to get the button codes, click here.

And make sure you visit the links in the Mr. Linky here every Friday. These are the FUN blogging folk YOU want to be friends with. Go to THEIR sites. Read THEIR blogs. And of course, leave COMMENTS.

Oh, we can see the friendships forming already. It's a beautiful thing!
Say It Forward – Week 29 – This week's loyal commentor is Kim from Shop With Me Mama.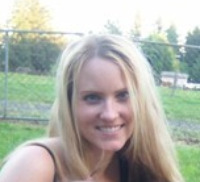 Kim is a stay-at-home mother of two adorable tykes and a blogger, reviewer with a site full of giveaways and good deals.
Kim's site is broken into easy to navigate pages where she offers deals and reviews on products in Health and Beauty, Babies and Kids, Clothing and Unique Gifts and Fun Freebies. While giving her readers a sneak peek into her chaotic life as a mom, Kim also gives honest and informative reviews on products in an effort to better inform us so that we can make a well thought out purchase. In short, Kim's site is a great resource.
Kim describes herself this way: I am a stay at home mommy to two beautiful kids, Zaden who just turned 3 in January, and Presley who just turned 1 in November. I have a VERY devious personality and LOVE to laugh…

I am the wife to an amazing husband, Dax, who works his bottom off to ensure that I can indeed continue being home with our children. We have been together ever since junior high. We actually got together the night we graduated from 8th grade!

I absolutely LOVE the internet and all of the glorious things that it has to offer. I love searching it, finding great deals on things that I so badly need, ya right ;), and love grabbin' up some freebies along the way. I also love reviewing products and telling the world about them, whether I loved 'em or hated 'em!

I am glad that you read this, and now know kind of who I am. Enjoy my website and blog, enter my monthly contests, read my blog and feel free to check out the mommy made things and support them in their businesses as well. Grab a cup of coffee and catch up with me!
Thank you, Kim, for taking the time to give us such detailed, honest information. We appreciate the support that you give all of us.
And, of course, thank you for being such a loyal commenter here at 5 Minutes for Mom! Please display this Loyal Commenter badge with pride.
If you are selected as a Loyal Commenter either by our site or another blog, you can display this Loyal Commenter badge with pride. Also feel free to give the badge to the commenters that you select each week.
Thank one of your loyal commenters on your blog and then add the link to your post below.