This post may contain affiliate links. Read my disclosure policy here.
Do you ever wish that you could cook like a pro? I know I do. I am forever trying to mimic my favorite chefs on television — even down to the voices. There is just something about creating a meal that says to your family, "I love you so I took the time to learn how to make this for you."
In Tim Ferriss' new book The 4-Hour Chef, Tim (a lifelong non cook) takes you from Manhattan to Okinawa, from Silicon Valley to Calcutta, unearthing the secrets of the world's fastest learners and greatest chefs. Ferriss uses cooking to teach "meta-learning," a step-by-step process that can be used to master anything, whether searing steak, speaking Spanish, or shooting 3-pointers in basketball.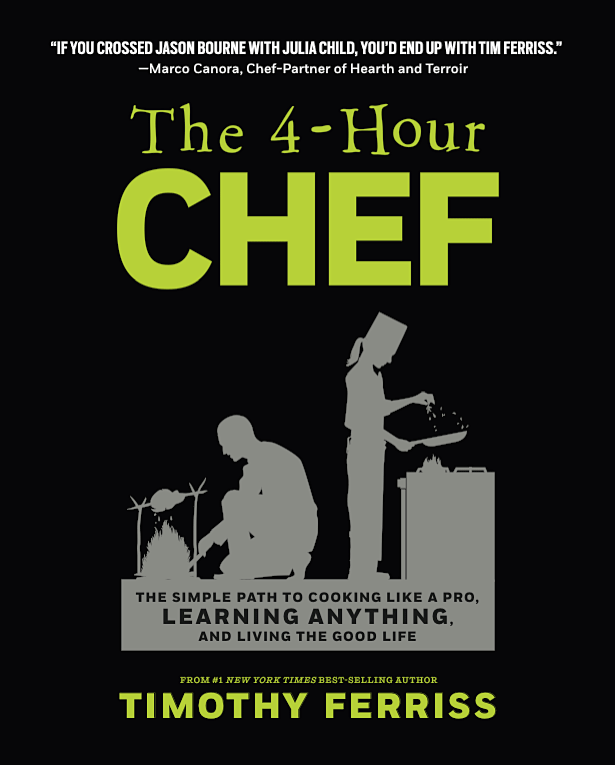 About Tim:
Timothy Ferriss has been listed as one of Fast Company's "Most Innovative Business People of 2007", Forbes Magazine's "Names You Need to Know in 2011," and is the 7th "most powerful" personality on Newsweek's Digital 100 Power Index for 2012. He is an angel investor/advisor (Facebook, StumbleUpon, Twitter, Evernote, Uber, and 20+ more) and author of the #1 New York Times, Wall Street Journal, and BusinessWeek bestseller, The 4-Hour Workweek, which has been sold into 35 languages. He's also author of the #1 New York Times bestseller, The 4-Hour Body.
I recently got to chat with Tim on the phone about his new book and ask him a few questions about his life and why he decided to write a cookbook style version this time around.
In your research for the 4 hour Body book, your extreme methods landed you in hospital more than once. How did the research process for this book differ? Did anything go wildly wrong?
The 4 Hour Chef was a much more enjoyable process. I got to experiment with food and learning, and getting in there cooking. This is a cookbook on how to learn any skill in general, not just cooking. In this particular case, there are really a lot of fun experiments like working with chefs making Cauliflower Creme Brulee which you can serve as an appetizer. I did do some crazy experiments like doing a food marathon through New York City. It was fun but a lot of food in such a short period of time. So no — this time around, there was lots of crazy fun, but nothing went wildly wrong.
You're known to be quite a savvy social media user, what tips, tricks or strategies are you using particularly for this book launch. What lessons have you learned from your previous launches that you will apply to this one?
For this book launch there are several things that I am doing differently. The first thing is that this book is more visually beautiful than all the other books I have written so we are showcasing the 1500 photos and illustrations throughout this book by using Pinterest. We are pinning a lot of the recipes and we will also be using the new cinematic trailer (which you can find below) to draw in traffic for this book as well. Beyond that, we will be doing less on Facebook and focusing more on Twitter, where our readers can create their own ads of sort and promote the book through their channels.
Who is your target audience for this book?
I think that this book will definitely increase my female readership! Right now, about 40% of my readers are female. For the men, this is a cookbook for people who don't buy cookbooks. In the book I talk about basketball, marksmanship, and of course cooking. Really, this book is for everyone. This is my first time really going after the female market and I think that they are going to love what I've done with the 4 Hour Chef.
You've enjoyed several business successes including authoring this series of books. Do you describe yourself first as an author or as an entrepreneur or something else?
I aspire to be the best teacher possible, so I really view myself as a teacher more than I do a writer.I really want to help people have epiphanies and accomplish the things that in their mind, they think they can't do.
Tim, you are ambitious, very driven and clearly have a lot more to offer. When you are "done", what mark will you like to have left on the world?
My mark for me would be that when I am done, I can look back and see that I have created thousands of incredibly good teachers and millions of confident problem solvers. I really want everyone who reads my books to "pass it forward" –so creating teachers and problem solvers will be the mark that I would like to leave, because our world has plenty of problems to solve.
We received a copy of the book The 4 Hour Chef in order to write this review. All opinions shared are our own.