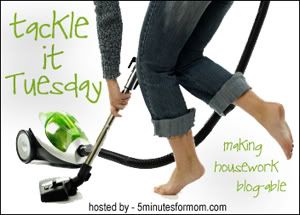 This week, we have Guest Tackler, Penny Raine.

Penny Raine is a mother of 8, and wife to preacher husband Jim Raine. They are also blessed to be new grand-
parents. They live on a horse farm in TN where Penny writes for websites and magazines encouraging mothers to love their husbands and their children and make their homes a welcoming place. You can find more, including her online bookstore, at www.pennyraine.com
Tackle a front porch
Aren't front porches wonderful? We live in an 1800's house and one of my favorite places is the front porch. It isn't my favorite when it is a mess though. So today we are tackling that problem. Here is a picture of our front porch, it can be really lovely.

The first step is to remove everything from the porch. In the South it isn't a porch if it doesn't have porch rockers.
Then you get the pressure washer and go to town! Be sure to wash everything washable, including the siding on the front of the house. Then clean the windows, the porch light, and sweep all the water off.
Then find yourself some pretty wildflowers and put them in a vase.
Next have yourself a seat, a cup of ice tea, and enjoy the view!


Written by Penny Raine. Penny can be found blogging daily at http://pennyraine.com/blog where she blogs about farm life and her big family. She also publishes a monthy E-zine called Front Porch Fellowship. You can get a free subscription in her bookstore at PennyRaine.com/bookstore


What about you? Tell me what you're up to… add your link to the tackle in the Mr. Linky below!
Each week on Tuesday, we are posting before and after pictures of a project or trouble area that we tackled this week.

Find out more about Tackle It Tuesday here.
The project can be little or big – whatever you want.

Basically, Tackle It Tuesday is about giving ourselves incentive, deadlines and satisfaction in getting our household tasks done.

(It doesn't even have to be housework… just whatever is on your To Do list.)
If you tackled a project this week, just add a comment and add your link below.
Happy tackling ladies…
Written by Guest Tackler, Penny Raine.