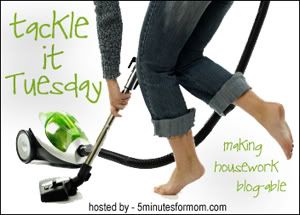 I'm leaving again in two days!
Seriously.
So, again I'm unpacking, doing laundry and repacking. Do you think I'll miss out on much sleep again the night before I leave? Probable outcome: 2 – 3 hours of sleep. (And that would be an improvement upon my recent departures.)
I am so beyond behind on everything I have to do, I can't even begin to explain it. Earlier today I literally felt the stress rising through my body and cinching my chest.
In last week's tackle I reported that I would be tackling my post-blogher catch-up. You know… sorting through business cards, adding feeds to my reader, following new folks on Twitter. Ya. Right. I can't even FIND my stack of business cards.
I spent the weekend offline and giving my girls my undivided attention. But now I have suitcases and dirty laundry everywhere. And I think my stack of business cards is in there somewhere. I'd take pictures for you, but I totally do NOT have time.
Oh… are you wondering where I'm off to this time? I'm going to a StomperNet conference. It's an training conference all about Internet Marketing, SEO, Social Media etc. So I'll be learning more cool stuff that I should be doing to help promote my pedal car store and my rocking horse store, but that I don't have time to do because I spend too much time blogging. LOL.
What about you? Tell me what you're up to… add your link to the tackle in the Mr. Linky below!
Each week on Tuesday, we are posting before and after pictures of a project or trouble area that we tackled this week.

Find out more about Tackle It Tuesday here.
The project can be little or big – whatever you want.

Basically, Tackle It Tuesday is about giving ourselves incentive, deadlines and satisfaction in getting our household tasks done.

(It doesn't even have to be housework… just whatever is on your To Do list.)
If you tackled a project this week, just add a comment and add your link below.
Happy tackling ladies…
Written by 5 Minutes for Mom co founder, Susan Carraretto.
Do you have our feed in your reader?