This post may contain affiliate links. Read my disclosure policy here.
Well, it that time again. Time to close a giveaway and award a fabulous prize. This week we are closing the Sea World "Trainer for a Day" giveaway.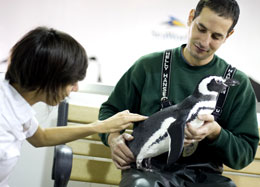 SeaWorld Orlando's Marine Mammal Keeper Experience
Work side-by-side with marine mammal experts and understand what it's like to care for these amazing animals during a day. Get an intimate look at feeding and behavior patterns and work with the animals just like the pros do.
(Must be 13 years of age or older to participate. Can be substituted for Beluga Interaction which is 10 and older.)

Keeper for a Day at Busch Gardens
Spend a day assisting in the care and feeding of some of the world's most exotic animals. Discover the satisfying sense of purpose that comes from knowing you've contributed to their care and learned a little bit of the language that connects all species.
No matter what kind of work you return to when you leave, you'll take away a special connection to these animals and their cousins in the wild after getting to be a keeper for a day – one we hope will inspire you from that day forward. (Must be five years of age or older to participate.)
Comment Number 67 – Julie Mommy 2 Seven will receive the opportunity for "Trainer for a Day".
Congratulations! You should have received an email about claiming your prize.
If you haven't received an email, please send your full name, shipping address, and telephone number to contests5m4m (AT) gmail (DOT) com by Wednesday, July 22 in order to claim your prize. Any prizes unclaimed will be considered forfeited and new winners will be selected.