This post may contain affiliate links. Read my disclosure policy here.
I scream……You scream……We all scream for free ice cream for a year!!!!
We are excited to share with you the perfect summer contest that is happening right now over at 5 Minutes for Special Needs – The Joys Shared: Blue Bunny Ice Cream Photo Contest.
Those sticky, little ice cream faces, those big wide-eyed grins, those adorable best friends skipping down the street to the ice cream truck.
What will YOUR kid do for ice cream? And what kind of joy does it bring? And what better way to celebrate the joy of ice cream we all share then with a photo contest?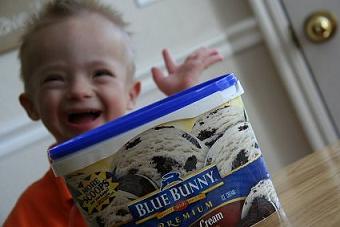 So find your favorite photo and enter it now! And you may find yourself the winner of Blue Bunny Ice Cream for a year! The child or children in your photo can be of any age or ability.