This post may contain affiliate links. Read my disclosure policy here.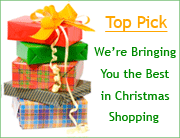 We love parent-designed products. In the hands of a creative mom or dad, a common parenting dilemma finds a unique solution.
And when that clever parent decides to turn their invention into a business – we all get to benefit from their creativity!
The Tubby Bundle is one of those brilliant inventions that make parenting just a little bit easier – well at least parenting during bath time!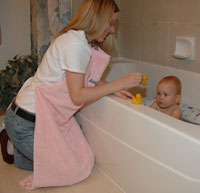 The Tubby Bundle is an apron style towel that keeps you dry while you bathe your little child. No worries about splashes now! We love that it even cushions the knees as you kneel at the side of the tub.
And then when bath time is over, it is right there around your neck waiting for you to scoop up your soaking wet little one and snuggly wrap them up. (No more holding that tiny thin baby towel with your teeth or under your chin as you wrap it around your infant!) Made with super soft, thick cotton, your baby or toddler is warm and dry in no time.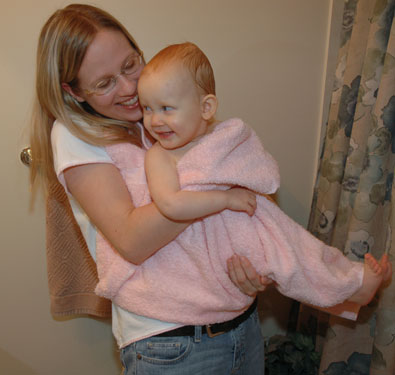 This smart towel will be a huge success at a baby shower or at Christmas time. (And don't forget to grab one for yourself if you are still in the baby or toddler bathing years.)

The Tubby Bundle is one of our 'Top Picks' for a Christmas gift. It comes beautifully wrapped and with a few little ducky friends. Julia loves her new little duckies — you can see them in the photo.
This is another mom-run business you don't want to miss!