This post may contain affiliate links. Read my disclosure policy here.
With your Thanksgiving turkey making its way to your oven, it's almost time to pull out the Christmas decorations.
And so we thought you'd like to know about a fun nationwide holiday decorating contest sponsored by Swiffer®.
Check out the prizes…
Grand Prize Winner: $3,500 toward a home makeover
25 First Prize Winners: A Swiffer WetJet
6 Weekly Winners: A year's supply of Swiffer Products
Here's what you do:
Get your family together and get creative decorating the inside of your house.
Take a picture showing off your brilliant holiday decorations.
And cross your fingers that you'll be selected in the random draw for the $3,500 home makeover or the Swiffer product prizes. (Also, remember to check back each week to see if your picture is selected as the "favorite home of the week".)
Psst… shhh… don't tell…
But actually if you want to skip the photo submission part, you can still submit your name into the random draw for all the prizes.
Sound like fun?
So before you run off and start decorating, tell us…
When do you put up your Christmas decorations? Do you put up a 'real' tree or use an artificial one? Do you set out any Christmas presents under the tree before Christmas Eve or do you wait and let them all pile up during the night for a big surprise on Christmas morning?
When we were kids, our family would set up our tree in the beginning of December. For many years we had an artificial tree that we had to piece together like a gigantic puzzle. The branches had color-coded tips that plugged into the trunk of the tree. We complained like crazy that we wanted a real tree, but the fun of putting together our puzzle tree usually quieted us down.
Then our parents would gradually put a few presents under the tree during the days leading up to Christmas and we'd lightly lift and shake each to try and guess the contents. And of course on Christmas Eve while we slept, tons of gifts found their way under the tree and into our stockings.
Now that we have our own families, Janice and I follow similar traditions. And on Christmas morning we all gather at Janice's house, so Julia and Jackson can open their gifts together.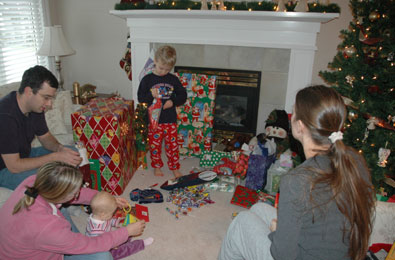 Ahhh… just thinking about it brings a smile to my face.