This post may contain affiliate links. Read my disclosure policy here.
There's nothing more peaceful than watching your children sleep. But I almost never take any pictures of them… and I lament that fact daily. This poor quality shot doesn't do their sleepy cuteness justice.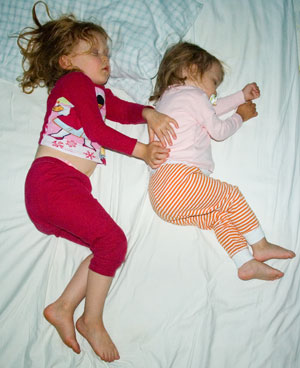 Julia and Sophia co-sleep with us and when I put them to bed at night, they sleep the first few hours with just each other. Most of the time they stay out of each others way, but sometimes I'll catch them snuggling together.
You'll notice that Julia is wearing pajamas that are two sizes too small. Those are her beloved Dora pj's that she received from Santa when she was two. Many nights I have had to endure her temper tantrums that she can't wear her Dora jammies because they are in the laundry.
For her birthday I went crazy looking everywhere for red Dora pajamas to replace these ones, but I couldn't find them anywhere.
Written by Susan.