This post may contain affiliate links. Read my disclosure policy here.
Lately, my husband and I have both been waking with a lot of back pain. I think it's our mattress – it's over twelve years old and probably needs to be replaced. Buying a new mattress is a major task and can also be an expensive one. We want to choose something that's going to provide us quality and comfort but also be affordable and easy to purchase.
Kohl's, in partnership with Sleep Innovations, has introduced its new Gel-Memory Foam Mattress. This 12-inch thick mattress infuses gel microbeads into the memory foam, providing extra support and helping to maintain an optimal sleep temperature.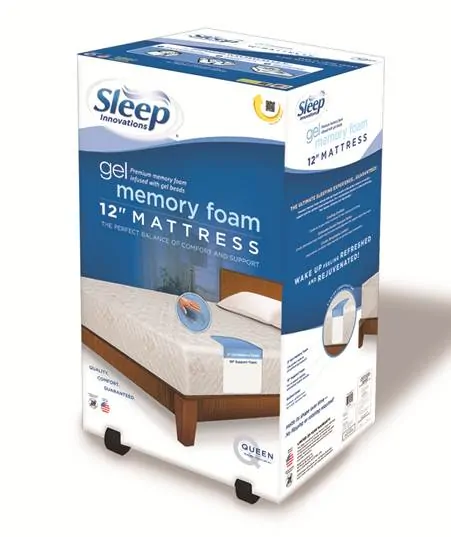 You get two inches of gel memory foam and ten inches of base foam to provide superior support. Because the memory foam minimizes motion transfer from your bed partner, you will enjoy more uninterrupted, restful sleep.
Key Benefits of the Gel Memory Foam Mattress in a Box by Sleep Innovations
Cradling comfort and gentle support
Eliminates painful pressure points
Cool, breathable support
Memory foam holds its shape, eliminating the need for flipping or rotating
Another great thing about the Sleep Innovations 12-inch Gel-Memory Foam Mattress is the carry-home convenience. When purchasing the queen-size mattress in-store at a Kohl's location, it will come as a handy "mattress in a box" – wrapped in a portable, wheeled box to make purchasing and transporting a snap. This feature would be great whether purchasing for your own home or to give as a holiday gift. Additionally, this mattress comes with a Manufacturer's 20-year limited warranty.
*Note* The Gel-Memory Foam mattress is available in any size online through Kohls.com. If ordered online, your mattress will be shipped in a large, standard shipping box. Only when purchasing the queen-size mattress in-store (only queen-size will be stocked in-store) will you get the portable "mattress in a box" (for ease of purchase and transport).
Right now, prices for the Sleep Innovations Gel-Memory Foam Mattresses range from $699.99 to $1149.99. If you are in the market for a new mattress for yourself or even expecting holiday guests, this would be an excellent investment for your home.
It would also make a wonderful and luxurious gift to share with a loved one. Check it out at your local Kohl's Department Store or at Kohls.com.
I received compensation for sharing information about the Sleep Innovations Gel-Memory Foam Mattresses available through Kohl's. I have not personally tried this product. Any opinions expressed in this post are my own.