This post may contain affiliate links. Read my disclosure policy here.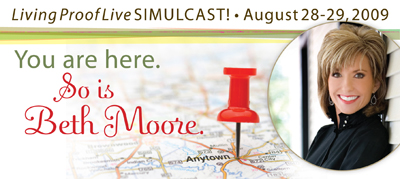 Do you love Beth Moore as much as I do?
Her live simulcast is coming and your church can bring Beth Moore and Living Proof Live to your home town via Live Simulcast on August 28-29. You don't have to take a road trip for this life changing event.
Beth has announced the theme of the message: "Coming Home to the Heart of our Desires," out of Psalm 37.
So, to see Beth Moore and experience worship with Travis Cottrell, here's what to do:
You can also register to win a Beth Moore Bible Study Kit of choice and a Grand Prize Trip for Two to the live site in Green Bay with front row seats!


Beth Moore – Live Simulcast 2009 from Kris Seidenkranz on Vimeo.
This post is sponsored by Lifeway.