This post may contain affiliate links. Read my disclosure policy here.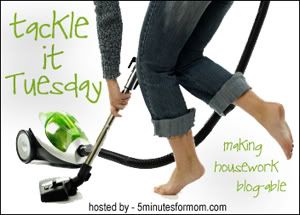 I'm still procrastinating on several of my enormous household tackles… which is slightly shocking since as you can see in this video, the situation is rather urgent. I have tackled the play room and I am proud to say that the toys are still finding their way home most days. But the upstairs laundry disasters still rage war.
But, today I'm exposing how disgustingly dirty I have let my daughter's stroller become. (Look how sparkly clean it was when both the strollers and our babies were brand new.)
It's hard to see how dirty the stroller was in the photo below, but just imagine the sticky, yucky mess of a toddler's stroller where she routinely munches snacks, sips milk and spills everything.
This was a bit of a family tackle. My mother noticed how badly the stroller needed to be cleaned, I stripped it apart, soaked and washed the fabric and my husband hosed down and scrubbed the stroller's skeleton.
We accidentally put way too much soap on the fabric when trying to clean it and we had buckets full of soap suds in the washing machine. It reminded me of the Brady Bunch episode when the youngest boy tried use the washing machine and filled the house with soap suds. (I guess I seriously dated myself there. Yes, I am old. LOL)
Here's a before and after photo:
I definitely am much happier that my daughter now has a much cleaner ride!
Would you like to post as a guest tackler? Submit your guest tackles to be featured here at 5M4M. You can write Susan at tackleittuesday at gmail dot com. Remember, we are here to promote your site!
Each week on Tuesday, we are posting before and after pictures of a project or trouble area that we tackled this week.

Find out more about Tackle It Tuesday here.
The project can be little or big – whatever you want.

Basically, Tackle It Tuesday is about giving ourselves incentive, deadlines and satisfaction in getting our household tasks done.

(It doesn't even have to be housework… just whatever is on your To Do list.)
If you tackled a project this week, just add a comment and add your link below.
Happy tackling ladies…