This post may contain affiliate links. Read my disclosure policy here.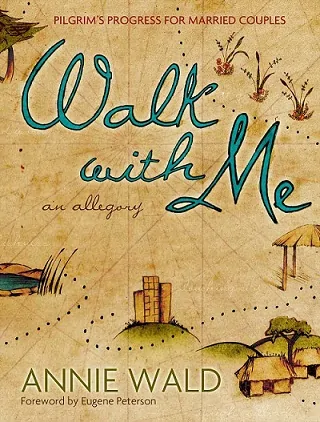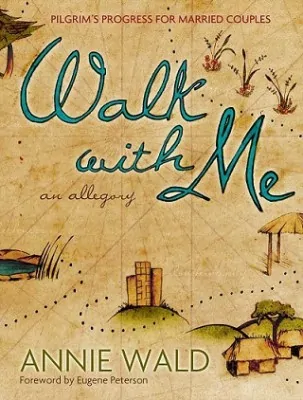 Celeste and Peter are two people journeying to the King's City when they decide to walk together as partners, promising to stay together no matter how difficult the path. However, they have no idea what lies ahead–the Swamp of Selfishness, the Desolate Canyon with the River of Unfaithfulness snaking through the bottom, the Orchard of Earthly Delights, and much more. You're probably already flashing onto John Bunyan's famous allegory "Pilgrim's Progress" and you're right–Walk with Me
is an allegory in the same style about marriage.
Author Annie Wald has combined two styles – allegory and marriage manual – and done so in a way that is eminently readable and enjoyable. The result is a book that gently and subtly teaches deep truths about marriage in a way that is never preachy yet is convicting nonetheless. Interwoven throughout are Scriptures from the Message translation of the Bible, and they are different enough that although you recognize them, you read them in a new context with fresh eyes, and they impact you in new ways.
Wald has done a terrific job. In fact, I must admit that there were times I squirmed uncomfortably and wondered if she'd been listening in–could she have bugged my bedroom, do you think? Because some of those fights between Celeste and Peter were practically word for word to a few I've had with my husband. How could she have known?
Her use of allegory is well done and paints a picture of marriage for us–it shows instead of telling us, like they tell you to in writing classes. There's Echo Canyon–where couples who are just starting out can be pulled apart by hearing echoes from their childhood of how their parents did things or how their parents spoke to them (for example, Celeste's family bought new walking shoes every season but Peter's family repaired shoes to save money). There's the Orchard of Earthly Delights, where travelers enjoy the fresh fruit and long harvest season so much they get distracted from continuing on to the King's City, yet where they grow thin and develop greedy pouts. There's the wounds that don't heal–Celeste's blisters from when Peter sets too fast a pace, or Peter's wounds from the snapping turtles that appeared when they were walking through the Swamp of Selfishness. Together they need to cross the Bridge of Forgiveness not just once but many times, to avoid the Chasm of Revenge. They must use the Kindling of Affection to build a fire to keep warm.
I find that I'm helped more by story than by lecture. I think of how Jesus' parables of the Good Samaritan and the Prodigal Son flesh out for me the concepts of mercy and forgiveness. The writings of CS Lewis, George MacDonald, and others of their ilk have done more for my Christian life than myriads of well-meaning self-help books with their lists and instructions. Story holds up a mirror to my life and challenges me to not continue as I have been. That's why I appreciated Walk with Me: Pilgrim's Progress for Married Couples
so much. It gave me fresh eyes to view my marriage and to look at the big picture, at what's truly important in the long run.
This is an excellent book for people in all stages of the journey. I'm going to be recommending it to everyone I know! Although it would be a great gift for weddings and engagements, I must admit that I am long past the newlywed stage and I think I got more out of it for being farther along the path. Truly, marriage is a journey not an event. It's arduous but beautiful, a refining process that can bring us closer to our spouses and to the King and his Servant. Readers will recognize themselves in Celeste and Peter, in the choices they make, the wrong paths they choose, and the right ways they find that bring deep joy and satisfaction.
Also, get to know author Annie Wald a little better by reading her guest column at 5 Minutes for Books where she gives us a glimpse into her reading world.