This post may contain affiliate links. Read my disclosure policy here.
Going on trips with my kids, even short trips, can provide to be a very messy experience. For some reason the moment they are buckled in, they think they are hungry or thirsty. And the car suffers for it. It's a constant battle trying to clean up their messes. That's why I was so glad to have found this handy new product called LapFit.
LapFit is called the eat, work, play tray because you can do it all! It's so neat. LapFit is designed to eliminate spills and mess that occur while your child is eating on the go. It has special sections for each food item. As you can see in the picture below, you have a space for your juice box or a child sized drink and for your sauce or ketchup as well as two larger food areas.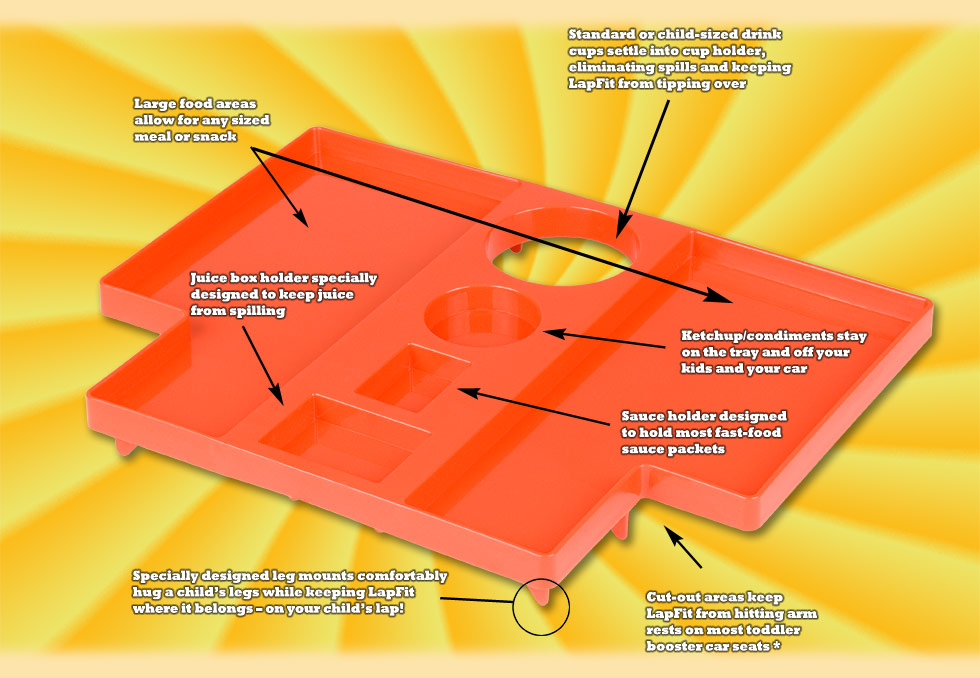 There is also an additional easy fit cover that can snap on top of this one (included with purchase) that allows your child to color, draw, or read in the car. It has grooves that allow LapFit to rest securely on your child's legs so it doesn't slip and slide around on their laps.
LapFit trays come in pink, blue, and red. They also have different sizes depending on the type of seat your child uses – LapFit Toddler and LapFit Junior. So it's perfect for children of all ages 3 and up!
My children were very excited to get their LapFits. Matthew couldn't wait for me to get it out of the box. As soon as he was able to he was sitting on the couch with it on his lap and coloring pictures. They enjoy it in the car but they also use it around the house. For everything.
They will sit in the floor and color, or sit on the couch and have a snack. They really love their LapFit trays and I have to say this mommy is happy for less mess.
Just watch this video and you will want to run out and buy one for your child!
LapFit can be purchased directly from their website, LapFit.com for the special online price of only $19.99 + shipping & handling. Be sure and LIKE LapFit on Facebook to keep up with any new product updates and specials.
But wait! We have something special for you! We are giving away a LapFit tray to 3 lucky readers!
Enter to win!
Check out the Rafflecopter below to see how you can enter to win one of your very own! Just use the Rafflecopter form below to enter this giveaway. New to Rafflecopter? Watch this 45-second video on how to enter!
*Disclosure: I was provided LapFit trays free for review. All opinions stated are my own and were in no way influenced.