This post may contain affiliate links. Read my disclosure policy here.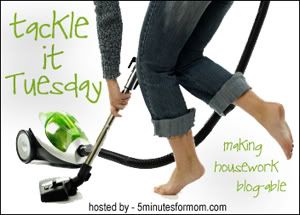 Today we have a GUEST TACKLER — Onna from Toddler Craft.

Onna is a SAHM, educator who runs a small day care in her home. She
loves to see the kids learn as they create crafts and use their
imaginations. She blogs about fun educational crafts, activities, and Parenting tips at Toddlercrafts.net.



Right now, Onna is hosting an Art Contest at
Toddler Craft for kids 1-18 so get creative with your kids and enter!
A Garden Tackle
Written by Guest Tackler, Onna Holland.
I am thrilled to be guest tackler today! I have been very inspired
by Tackle it Tuesday since I started participating! It keeps me on
task.
My sister and nephew are coming to live with us for a year, so we have
had a lot to tackle. I am so excited for them to come (this
FRIDAY!!). Thank goodness, I have completed their room so now it's
time to move on to other tackles!!
This week I am tackling my Garden. I started a garden last year and
it was so much fun!! My kids love to help me plant and weed it. It
is such a great learning experience for them to see the process of the
plants growing and then making vegetables or fruits. My son who
refuses to eat vegetables at all actually will eat the cucumbers from
our garden. If I offer him cucumbers and they are not from our garden
he refuses, but if he sees them picked (or helps them pick them) he
can't wait to try them!! I guess he is a cucumber snob-lol. This
year I already had the box made, so we just had to weed, add some
compost and plant our fruits and vegetables.
Preparing the Garden
The Blueberry Bush waiting to be planted
We planted so many great things this year!! I can't wait for them to
grow!! We have cucumbers, cherry tomatoes, roma tomatoes,
cauliflower, zuchinni, summer squash, snap peas, green beans! Yumm!!
We already got a couple of snap peas and they are delicious!! We also
planted a blueberry bush, a rasberry bush and some strawberries.
What have you done this week? Any tackles, projects? Did you finish
a class, paper, report? Let us know in the comments below!
And if you tackled over at your site, make sure you link up and show us. 🙂
Would you like to post as a guest tackler? Submit your guest tackles to be featured here at 5M4M. You can write Susan at tackleittuesday at gmail dot com. Remember, we are here to promote your site!
Each week on Tuesday, we are posting before and after pictures of a project or trouble area that we tackled this week.

Find out more about Tackle It Tuesday here.
The project can be little or big – whatever you want.

Basically, Tackle It Tuesday is about giving ourselves incentive, deadlines and satisfaction in getting our household tasks done.

(It doesn't even have to be housework… just whatever is on your To Do list.)
If you tackled a project this week, just add a comment and add your link below.
Happy tackling ladies…
Written by Guest Tackler, Onna Holland.