This post may contain affiliate links. Read my disclosure policy here.
This week we have 2 giveaway winners to announce: a Posh Gift Basket for Mom and a HP MediaSmart Server LX195 for Dad!  Here are our winners and a brief reminder of what they have won: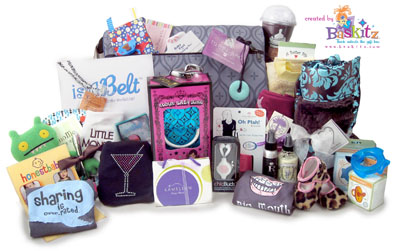 This incredible gift basket is designed by Debbie Buxer, who has designed gift bags for events produced by JLO, Elton John, Jerry Bruckhiemer, Walt Disney, Warner Brothers and more. It is filled with loads of goodies and has an estimated value of $800.00!
Congratulations # 27 Kerrie!!

"The HP MediaSmart Server LX195 is a central repository for backing up, storing and accessing digital photos, videos, music and documents from both Macs and PCs on a home network.

This small home server acts like a digital vault that keeps all of your digital memories protected. It can also remotely stream media (photos and music) and allows for easy publishing of photos to social networking and photo sharing sites like Snapfish, Flickr and Facebook. The HP MediaSmart LX195 retails at $399.99."

Congratulations # 757 ktanjatk (@gmail.com)!!
Congratulations!! Winners should have received an email by now about claiming your prize.
If you haven't received an email, please send your full name, shipping address, and telephone number to contests5m4m (AT) gmail (DOT) com by Wednesday, June 24 in order to claim your prize. Any prizes unclaimed will be considered forfeited and new winners will be selected.