This post may contain affiliate links. Read my disclosure policy here.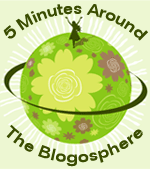 Welcome to our weekly roundup here at "5 Minutes Around the Blogosphere".
As you know, you can come back all week and add a post or giveaway to our Mister Linky. Be sure to check back often, as new links will be added daily. You don't want to miss out on something fun.
ALSO… now you can add your link to our Around the Blogosphere Special Needs Style.
ANNOUNCEMENTS
Have you heard about Better The World? You can raise money for your favorite charity just by surfing the web! This is a simple and a great way to donate to charity without spending a cent. Go to www.bettertheworld.com to find out all the details. For the month of June, members can also win an Xbox 360 with Guitar Hero – plus they're giving an Xbox to a children's hospital on the winner's behalf.
If you're thinking about getting a new blog design, now is the time to do it. Delicious Designs By Trista is offering a 20% discount on either package C or D until July 11th. For more details, visit her website here.
TD Bank is offering kids a great summer reading program. The program will pay kids $10 to get reading this summer. Kids read any ten books during summer vacation, write the titles on the Summer Reading Log and take the form to the nearest TD Bank or TD Bank North location by September 30th. The bank will deposit $10 into any existing or new Young Savers account. In addition to promoting literacy and giving kids a project for the summer, this is a great way for parents to start a dialogue with their kids early on the importance of saving.
Liberty Mutual's, The Responsibility Project proudly presents "TONY" and "FATHER'S DAY" – two film shorts just in time for Father's Day. Both films celebrate fathers and the relationship they have with their children. In "TONY," actor Tate Donovan goes to great lengths to find his child's lost teddy bear, while "FATHER'S DAY" captures the emotions of a complicated father-daughter relationship.

Click here to see links to social media sites, many more short films, blog posts and personal stories – all about responsibility. There's also a downloadable "Parents Guide to Responsibility".
CONTESTS & SWEEPSTAKES
Tweetest Backgrounds is a site that is for Twitter users. It has over 150 free backgrounds and growing. It also has an option to grab a custom one for you or your business! Go take a look around!

The best part is, if you go to the TweetestBackground blog you can enter t to win a 8gb Apple iPod Touch! You can also enter through the main website.
BLOG GIVEAWAYS
For Everyone
For Women
Baby Essentials
Just For Kids
Books for Grown-Ups
Books for Kids
Would you like to share a fun giveaway or a worth our while post? Please add it to the Mr. Linky below. You can come here any time this week to add in your link. Don't miss out on the fun. Be sure to visit throughout the week as the linky grows, and more sites are added.
If you would like to have a post on your blog featured in 5 Minutes Around The Blogosphere, please send us an email with the actual link to your post at features5minutesformom at gmail dot com and we'll see if it can be arranged.
You can find Marissa writing away at Mama Sparkles.