This post may contain affiliate links. Read my disclosure policy here.
If you have a baby, toddler or preschooler, you're going to LOVE this giveaway…
We are giving away two Strider Running Bikes!
I'm going to bet most of you don't even know what a running bike or balance bike is. Well, instead of me trying to explain… I'll let my preschooler Julia show you.
Watch!
As you saw in that video, running bikes or balance bikes teach children balance so that they when they want to ride a pedal bike, they can learn easily without ever using training wheels.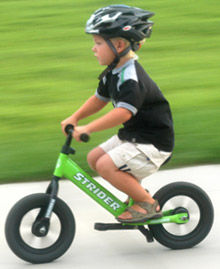 The Strider Run Bikes are perfect for children aged 18 months to 5 years.
So if you have a baby, toddler or preschooler, you definitely want to enter this giveaway.
But if you don't want to wait, and you want to let your child start riding right away, go ahead and order a Strider Balance Bike and if you win, we'll refund your money. If you prefer a Like-A-Bike brand balance bike, order one and if you win, we'll refund the price of a Strider Bike.
In the previous video, Julia is riding a Mini LikeABike balance bike and her friend Madison is riding a Jumper LikeABike balance bike.
The Strider brand of balance bikes is similar but has a few differences including footrests and an optional foot brake. It's also priced very reasonably at only $94.99.
You can watch the Strider bikes in action in this video…
The Like-A-Bike brand is the original balance bike and is crafted in Europe. They are fantastic bikes, but they are more expensive. We highly recommend the Mini LikeABike that Julia is riding in the video and the Jumper LikeABike that Madison is riding.
Julia loves her LikeABike so much, that even though she now zooms around on a pedal bike without training wheels, she still rides her LikeABike almost every day — and still cries when she has to share it. (Strangely, she will share any of her other bikes or ride on toys, but her wooden LikeABike she cannot seem to share without tears. She cries, "It's so special to me!")
Okay, so back to the giveaway…
We are giving away two Strider Running Bikes!
Here's how to win:
Okay, listen up everyone, we're doing this giveaway a little differently than usual…
On your own blog OR Facebook profile OR Myspace page OR LiveJournal page, write a post or a note telling us a story about your first bike or how you learned to ride a bike. Just tell us a little story or tidbit related to you as a little tyke with a bike AND link back here to this post AND link to our store's Balance Bike page.
Then add your link here in this Mr. Linky. Copy the url of your blog post or your post on one of those social media sites.
If it's a Facebook profile, you'll need to add us as Friends so that we can come read your story. We are:
http://www.facebook.com/susan.carraretto
http://www.facebook.com/janice.croze
IMPORTANT: This time, we are going to draw the two random winners from the Mr. Linky entries instead of the comments.
That means we will NOT have your email address to notify you if you win… so you MUST check back here to see if you are a winner and claim your prize. We will announce the winner here on Monday, July 20th.
Remember to watch our RSS feed and/or check back here to see if you won. If we don't hear from you within a week, you forfeit your prize.
Add Your Link Here
Remember to watch our RSS feed to see if you win.