This post may contain affiliate links. Read my disclosure policy here.
This week, I tackled a FUN project — I volunteered to photograph Jackson's classmates and make Father's Day cards with the class.
If you glanced at my inbox, you would question the wisdom of me volunteering for such a time consuming task at school. But Jackson is growing up so fast, one day soon he won't want me to be showing up in his classroom! Right now is such a precious stage and I adore every second I spend volunteering in his class.
I also LOVE to photograph children! Each child is so different — their personalities so unique. And children behave so much better for someone other than their own parent!
I had a fantastic time shooting the kids. The girls especially got so into it, flashing me their best smiles, twinkling their eyes and tilting their heads.
This is Aliyah, working the camera for me: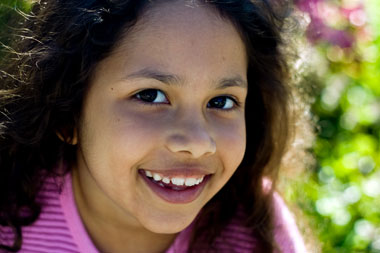 Here is Jackson – cracking up as usual!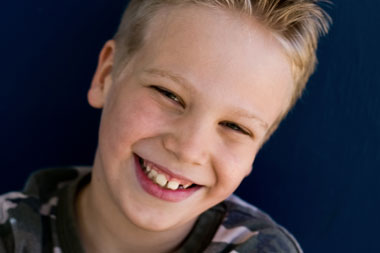 After the photo session, I needed to go through my shots and edit the ones I wanted to use. Choosing the best photos was so hard — the kids were so cute!
Of course, I left getting the photos developed and going to the scrapbook store until the night before I was to do the project. Thank goodness for Walmart's one hour photo.
I made the project very simple, so that I wouldn't have a tough time managing 23 kids.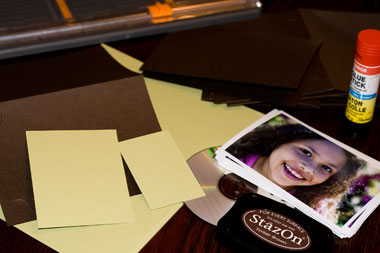 I used a die cut to make the cards, so the kids simply slipped in the corners of the photos.
I pre-cut the rectangles and had a stamping station where I helped each child with the Happy Father's Day stamp.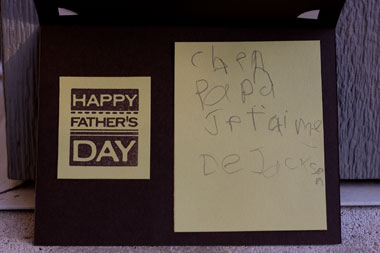 Then all they had to do was write on the larger rectangle and glue them both on. Voila! (Speaking of French, Jackson is in French Immersion and so that is why the words are in French. I couldn't find a French stamp though! LOL Oh and I left Jackson's card at school by mistake, so I got Jackson to help me quickly make another one tonight before he went to bed. For some reason, he hasn't inherited my perfectionist ways and didn't mind in the slightest that he tore through his printing as fast as he could.)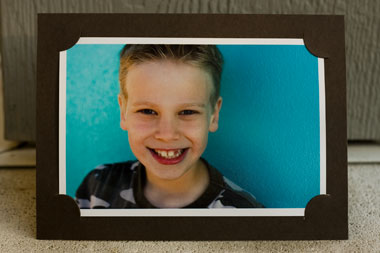 It was a super fun tackle to do with Jackson and his friends. Ahhh the joys of first grade!