This post may contain affiliate links. Read my disclosure policy here.
Are you looking for an easy, family-friendly dinner idea? Try this easy recipe for Baked Chicken Flautas.
My biggest dinner obstacles are my two smallest and pickiest eaters. There is something magical about finger food. The easier it is to hold and eat, the more they love it. Add a dipping sauce and it becomes culinary magic.
Do you have picky eaters in your home? This recipe might be just what you need to have everyone asking for an encore!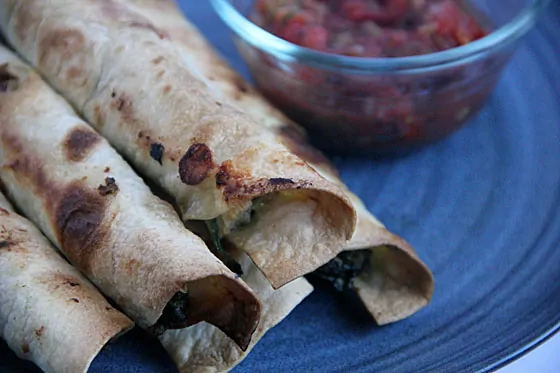 Flautas are not usually a favorite of mine. I am not a big fan of fried foods. My children are though, and my challenge was to adapt this recipe to be healthier for the entire family while still giving my kids the crunch and flavors they enjoy.
By using a rotisserie chicken, pre-shredded cheese and a can of Rotell, this meal is very easy and fast to throw together. I love it with a good fresh salsa, but my kids would tell you to dip them in a little sour cream. The decision is yours.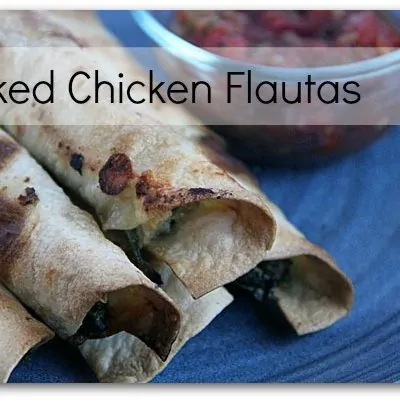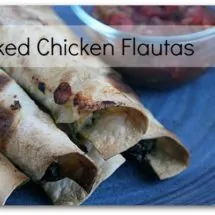 Ingredients
2 cups baby spinach
1/2 cup Rotell drained
1 teaspoon paprika
1/2 teaspoon salt
1 teaspoon garlic powder
1 teaspoon onion powder
1/2 teaspoon cumin
1/2 teaspoon chili powder
1 cup rotisserie chicken chopped
6 medium flour tortillas
1 cup Mexican Cheese shredded
baking spray
salsa or sour cream *optional
Instructions
Preheat the oven to 450 degrees. Line a baking sheet with aluminum foil and spray with non-stick spray.

In a large pan, wilt down the spinach and add the Rotell. Toss with spices and seasonings till warmed through. Then add the chicken. Mix well.

Cut the tortillas in half. And add a Tablespoon of chicken filling to each tortilla half. Top with a little shredded cheese.

Roll for the cut-side and place, seam down, on the baking sheet. Finish filling and rolling the remaining tortillas.

Bake for 10 minutes on one side. Flip and continue baking for another 5-8 minutes until golden brown.

Let the flautas cool slightly before serving. Serve with a side of salsa or sour cream for dipping.
If you found this post helpful, we would love it if you gave it a Stumble, Tweet, Pin, or Facebook Like. Thanks so much! We really appreciate your support of 5 Minutes for Mom.
We want to get to know you better — Tweet with us: @5minutesformom, find us on Facebook: Facebook.com/5minutesformom, or join our newsletter list.