This post may contain affiliate links. Read my disclosure policy here.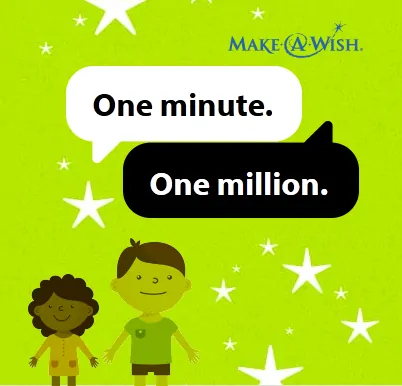 Cut your cell phone bill in half. Feel richer. Give back for learning how!
Straight Talk Wireless makes it simple. Spend one minute of your Saturday learning more about saving with Straight Talk, and you just might save a life in the process.
Children who receive wishes from Make-a-Wish not only have their dreams come true, but are given a renewed sense of hope, joy, and the strength needed to fight through their life-threatening medical condition.
Head over to oneminuteonemillion.com to find a local Walmart demonstration site near you, and to learn more about the project. You can track the overall progress of the $1,000,000 goal, learn more about Straight Talk and Make-a-Wish, hear the wish stories of real Make-a-Wish children, and even watch an online demonstration if you're unable to visit a local Walmart store.
Check out the action and get involved!

Will you find one minute to help? Be a part of the one million.
Disclosure: We are proud to be working with Straight Talk and Make a Wish Foundation.