This post may contain affiliate links. Read my disclosure policy here.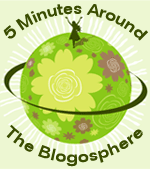 Welcome to our weekly roundup here at "5 Minutes Around the Blogosphere".
As you know, you can come back all week and add a post or giveaway to our Mister Linky. Be sure to check back often, as new links will be added daily. You don't want to miss out on something fun.
ALSO… now you can add your link to our Around the Blogosphere Special Needs Style.
ANNOUNCEMENTS
CONTESTS & SWEEPSTAKES
Best Western and Disney have launched a Rockin' Vacation Sweepstakes where one lucky fan and his or her family will get the chance to fly to Los Angeles for a three-night vacation and visit the set of the Disney series JONAS to hang out with some of the cast members. Fans can enter in the sweepstakes here until Sunday, August 16.
To help teach our youth about biodiversity, National Geographic and Airbus are putting together a children's photography contest. The prize for this great contest is an all expense paid trip to National Geographic Headquarters in Washington DC and a chance to meet with renowned photojournalist, Joel Satore. The entries for this contest must be received by September 8, 2009.
Moms Making a Million – the national program dedicated to helping one million moms by 2015 have a plan for one million dollars in personal net worth – is offering FREE membership giveaway. As an additional bonus, when moms sign up for membership or follow on Twitter, they receive a free copy of "104 Money Tips from Our Nation's Money Experts".

The program is free, and it has many nationally known financial experts supporting the program to give advice to our members. Go to www.momsmakingamillion – the giveaway ends June 30th, 2009.

Enter the Where Do You Torpedo" contest from Quiznos! Anyone can go online to www.toastytorpedo.com and submit a video of their eating a Quiznos Torpedo (toasted sandwich on ciabatta bread in a portable sleeve that makes it easier to carry on the go).

The video that best highlights eating a Torpedo on the go will win $10,000. Quiznos has also released a short video detailing a cross-country Torpedo adventure, capturing real-life consumers eating Toasty Torpedoes in each of the 50 states. The video will be distributed online and available on www.toastytorpedo.com.

Craftsman, America's most trusted tool brand, has teamed up with Archie Manning, pro football legend and all-star father, to award ten deserving dads with the ultimate Father's Day present. Whether your pop is an everyday DIYer, seasoned home professional or a weekend warrior, spoil him rotten by entering him to win a "Man-A-Cure" – more than $1,000 worth of Craftsman tools. The contest began June 9 and runs through June 30. All you have to do is log on to the new Craftsman.com and describe in 100 words or less why your father, or you (if you are an all-star dad), deserves a "Man-a-cure." Then upload a photo to help make your case. The ten best entries will win.
Here's a fun family contest! SKIL, Lowe's and Worlds of Discovery Theme Parks have partnered to create a Father's Day parent-child project contest for the chance to win an all expenses paid family vacation and other exciting prizes. Outdoor projects are available for parents to do with their children, starting at age 4. Simply build the project together and submit in-action photos or videos along with your entry form on the contest Web site!

To find a list of projects, tools and materials needed and official rules, visit www.SKILBuildingMemories.com You can complete your entry with a few easy steps on this site, or, you can enter via the SKIL Building Memories Facebook Page. (You must download the application at the bottom of the page to enter) The contest ends on July 12, 2009.

Are you going to BlogHer? Why not try to win a $500 sponsorship while you're at it? You must already have a ticket to be eligible to enter. For details on how to enter, go here.
BLOG GIVEAWAYS
For Everyone
For Women
Baby Essentials
Just For Kids
Books for Grown-Ups
Books for Kids
Would you like to share a fun giveaway or a worth our while post? Please add it to the Mr. Linky below. You can come here any time this week to add in your link. Don't miss out on the fun. Be sure to visit throughout the week as the linky grows, and more sites are added.
If you would like to have a post on your blog featured in 5 Minutes Around The Blogosphere, please send us an email with the actual link to your post at features5minutesformom at gmail dot com and we'll see if it can be arranged.
You can find Marissa writing away at Mama Sparkles.