This post may contain affiliate links. Read my disclosure policy here.
Yesterday, I downloaded all the pictures off of my camera onto my computer. It took forever. After waiting what seemed an eternity (but was likely no more than a few minutes), I called on my husband's computer wizardry to figure out the problem.
"You've got too many pictures on the computer," he told me. "You're going to have to burn some onto a disc and clear out space on the hard drive."
I hate burning my photos onto disc's. I really enjoy having them all together in one safe place where I can look at them whenever I want (you know, because I'm certainly not going to develop them. How arcaic…ahem.)
So, as I got to work burning my photos, I checked my email and found the link to the HP MediaSmart Server LX195 that one lucky reader will win in our Father's Day Giveaway.
And I found the answer to my problem. The HP MediaSmart Server LX195 is the perfect solution for those of us who tend to overload our hard drives with photos, music and videos.
Some key specifications that make the HP MediaSmart Server LX195 a worthy investment include: Intel Atom Processor 230 (1.6GHz), 1 GB of system memory, a 640 GB hard drive, and four USB 2.0 ports, plus many more features that you can read about here.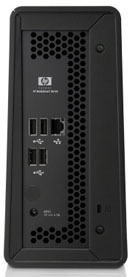 "The HP MediaSmart Server LX195 is a central repository for backing up, storing and accessing digital photos, videos, music and documents from both Macs and PCs on a home network. This small home server acts like a digital vault that keeps all of your digital memories protected. It can also remotely stream media (photos and music) and allows for easy publishing of photos to social networking and photo sharing sites like Snapfish, Flickr and Facebook. The HP MediaSmart LX195 retails at $399.99."
I can't think of anything more useful than a backup system that allows me to free up hard drive space, but still keep my files combined and accessible for easy viewing whenever I need them. And, what's more, my husband will love having the ability to store his music files in a place where they will be safe should anything ever happen to our computer. He'll likely also love not having to drop what he's doing and rescue me every time our overloaded computer freezes up.
Memories are important. They are what keeps us connected to the past. In this digital age, it's sometimes a little frightening to precariously place our memories in one giant basket where they could easily be wiped clean. There is wisdom in backing up your files. And the HP MediaSmart Server LX915 is definately the smart way to do that.
If you are looking for a way to bless your husband or your father's this Father's Day, please leave a comment and enter this fabulous giveaway. Because you cannot put a price on your memories…

As always, don't forget to earn more entries: subscribe to our Feed, sign up for our 5M4M Newsletter, add our 5 Minutes for Mom button in your sidebar, write a post and link back to this contest on your blog, and spread the word via Facebook, Twitter, or email! Please see our site's Terms and Conditions of Use for a complete list of our contest and giveaway rules.
This giveaway is open to US and Canadian shipping addresses and will end on Friday, June 19th. We will announce our winner on Saturday, June 20th.