This post may contain affiliate links. Read my disclosure policy here.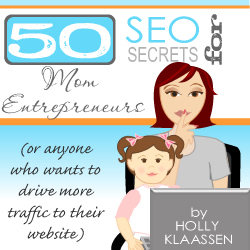 By Holly Klaassen
Certified SEM
The unfortunate thing about SEO (search engine optimization) is that it can feel overwhelming, especially if you're not the 'tech-y' type. It can seem especially daunting if you decide to just jump in and start reading some of the most popular SEO blogs (most of which assume at least an intermediate level of SEO knowledge).
The reason this is unfortunate is that really, the basics of SEO are just that – basic.
The Foundation of SEO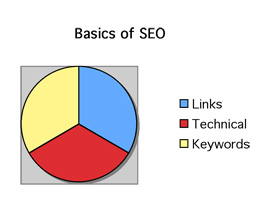 Before I talk about the three key elements of SEO, it's important to talk about the foundation of SEO – your website content. Regardless of how well optimized your site is, if your content isn't high quality (meaning well written, and unique to your site), you will never rank highly in the search engines (at least not in the long term).
By providing your visitors with valuable content, much of the SEO process happens naturally – great, original content naturally elicits links to your site, which increases your rankings in the search engines.
Technical Components
Let's get the boring stuff out of the way first. You've probably heard all about how the search engines 'crawl' through your website to figure out what it's about. Whatever information the search engines find on your site gets 'indexed', and then when someone goes to Google, for instance, and types in a search query, Google searches through all the content they've indexed and returns search results based on that.
But what if the search engines are for some reason unable to access certain pages on your site? What if some of your most important information or products aren't being 'found' by the search engines?
This is why the technical component of SEO is so important. A great way to see your site as the search engines see it is to sign up for Google Webmaster. It will help you see if Google is having troubles accessing your content, or if there is anything you need to work on. You can also submit a sitemap to Google, which essentially lets Google know about each and every page on your site.
Keywords
First, let me say I'm not talking about that list of words that go in the code of your site (aka the keyword metatag). You've probably already heard that little list is irrelevant nowadays.
What I am talking about are the words and terms you use to describe your content or products. After all, if you don't use a certain word or term on your website, you don't have a hope of ranking for it (I did SEO for a contracting company that did not ONCE use the words contracting or contractor on their website. Unbelievable, but true).
Figuring out which keywords to use on your site is the foundation of much of the rest of your SEO campaign. If you don't know which words or terms you are targeting, it becomes easy to feel all muddled and confused and give up on your SEO.
Once you know what keywords you are trying to rank for, you can dedicate a page to each keyword or term, using them throughout your content, title tag, description tag, header tags, alt image tags, and links within your own site.
Not knowing what your keywords are is like floating aimlessly in the ocean of SEO (cheesy quote, but you get my point, right?).
Links
Whether we like it or not, getting links is still the best way to increase your rankings in the search engines. If the search engines see a lot of great quality, important sites linking to yours, they will start to assume that you are important too (WE already know you're important, it's the search engines we need to convince).
If your site is perfectly optimized, but no one is linking to your site, you will have a very hard (if not impossible) time ranking in the search engines. The search engines see each link to your site as a 'vote' for your site. The more high quality websites that are linking to yours, the higher your site will rise in the search engines.
So getting out there, requesting links to your site, getting involved in the blogging community by leaving comments, making sure your link is included on the sites of any groups you are part of (professional organizations, local chamber, networking groups, suppliers, retailers, etc.) are all great ways to start getting links to your site.
Go, Do Some SEO!
When you break SEO down into the basics, it often suddenly feels…doable. My suggestion is to brainstorm and write down 5 concrete steps you can take to increase your traffic, in each category above (so 5 things you can do to get more links to your site, 5 things you can do to make sure the search engines are finding your content, etc.). Commit to doing one of those tasks every day, and in just over 2 weeks, think of all the progress you'll have made.
Above all, ask yourself, 'what can I do to ensure the most valuable experience for my website visitors?'. Create the best possible user experience and you might just be surprised at how some of your SEO work happens all by itself!
Holly Klaassen is a Certified Search Engine Marketer and author of the e-book, 50 SEO Secrets for Mom Entrepreneurs