This post may contain affiliate links. Read my disclosure policy here.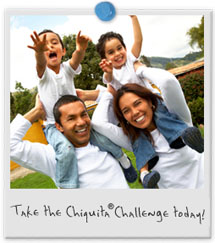 The most important part of being a parent is taking care of your kids.
Chiquita is challenging families to take part in a nationwide effort to make healthy changes at home and in schools. IU2U.org is the premiere destination to increase awareness and encourage families to Join The Act against Child Obesity.
12.5 million American children are overweight. Obesity isn't just a "weight problem", it causes depression, anxiety, increases risks of diabetes and cancer.
Check out the Chiquita Challenge for your family complete with menus, activity charts, kid-friendly recipes from Chef Robert Rainford and lifestyle tips from Dr. Oz's HealthCorps.
Head on over to 5 Minutes for Giveaways for more information on It's Up 2 U, the Chiquita Challenge and The FIT Kids Act. While there, enter to win a $100.00 Visa Gift Card.