This post may contain affiliate links. Read my disclosure policy here.
Are you ready to rock….Barbie style? Then grab your little girls and microphones and get ready for Barbie's™ newest adventure in The Princess and The Popstar!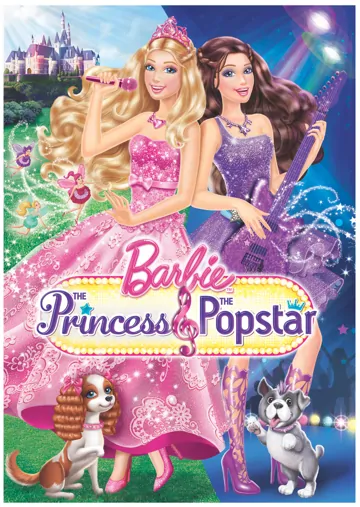 My girls are head over heels in love with Barbie™ and I love that is a creative way for them to play together. It is amazing the stories they will act out with their Barbie™ dolls. So creative!
So, imagine their surprise when the new Barbie™ The Princess and The Popstar dvd arrived at our house. They could not wait to get it open and in the dvd player and it proved to be a great activity for a rainy day this week.
About the movie:
"Barbie™ stars as Tori™, the kind-hearted princess of Meribella. When her favorite pop star Keira™ visits the kingdom, the girls discover they have much in common, including a magical secret that lets them look like one another. At first, swapping places seems like a great idea, until each girl realizes that the other's life isn't as easy as it seems! But Meribella also has a magical secret, and when it's stolen, the whole kingdom is put in danger. Will true friendship save the day? Filled with fantastic songs, fabulous fashions, and fun new friends, it's an exciting musical celebration that shows the best thing you can be is yourself."
The movie is filled with fun songs (and you'll most likely recognize some of the tunes) and a fun new twist on the traditional "The Prince and the Pauper" story. The girls loved how princess Tori and pop star Keira were able to switch places, thanks to a little magic, and, of course, the beautiful sparkly dresses!
As a mom, I thought the story was very cute. It had elements of fun, comedy, and adventure. I wish they would have focused a little more on the idea that, even though another person's life may seem great, it isn't always as easy as you think. However, the movie did do a good job of opening up that conversation.
Overall, it's a delightful story that little girls are going to fall in love with!
Speaking of falling in love…check out the accompanying Tori™ and Keira™ dolls.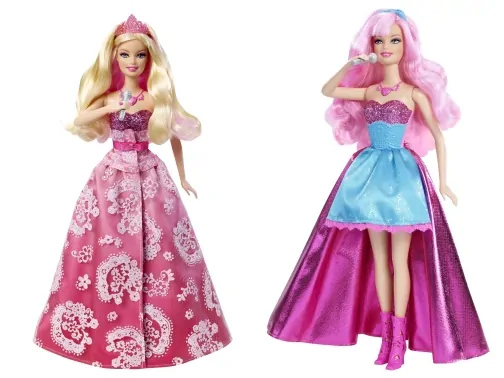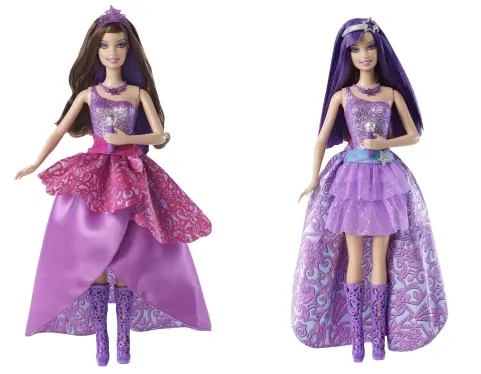 These are really, really cool 2-in-1 dolls that brings Barbie™ The Princess and The Popstar to life. Simply twist Tori™ or Keira's™ hair and switch their dresses around to transform the girls from princess to pop star and vice versa. Both dolls also feature their own "microphone" and a magical necklace that allows them to rock out to two built-in tunes.
Of course my girls adore the dolls and have been replaying the movie with their own dolls since we watched it. I love that the dolls have the 2-in-1 feature for even more play and operate on batteries that can be changed. There's nothing worse than your child falling in love with a toy that, once the internal batteries die, can no longer use that feature. Months from now we'll still be rocking out.
Barbie™ The Princess and The Popstar is available on dvd now and can be found at most major retailers for $29.99 (msrp). Of course you can learn more about Barbie™ The Princess and The Popstar, the dvd, listen to music from the movie, and print fabulous activities at Barbie.com. The Tori™ and Keira™ dolls, as well as other great Barbie™ The Princess and The Popstar items, can be found at Mattel.com
I received a Barbie™ The Princess and The Popstar gift pack to help facilitate my review. As always, all opinions stated here are my own.