This post may contain affiliate links. Read my disclosure policy here.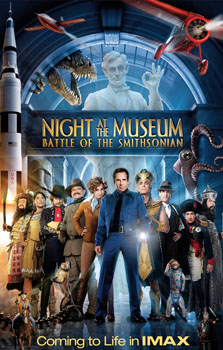 It's time to giveaway our Monumental IMAX Family Pack and10 pairs of IMAX tickets!
Our winners this week will be enjoying tickets to see Night at the Museum: Battle of the Smithsonian, which has been digitally re-mastered into the unparalleled image and sound quality of The IMAX Experience through IMAX DMR (Digital Re-mastering) technology.
With crystal clear, larger than life images and state-of-the-art digital surround sound, IMAX creates an environment that puts audiences in the movie.
What better movie to be "in" than the only major film has ever shot inside the Smithsonian in Washington?!
With Owen Wilson back as cowboy Jedediah, and Robin Williams again riding into history as Teddy Roosevelt, everyone is sure to have a great IMAX experience.
So, who will be going to the movies?
Comment # 257 Staci A. will receive the Monumental IMAX Family Pack.
The following commenters will each receive a pair of IMAX tickets:
Comment # 151 Amy L. Hass
Comment # 371 bridget (maine.rr.com)
Comment # 140 Nadia (gmail)
Comment # 209 Melissa O. (yahoo)
Comment # 323 Victoria
Comment # 52 Kristen M.
Comment # 283 alicia wallace (yahoo)
Comment # 63
Louise
Comment # 186 Shelly
Comment # 9 Celeste (gmail)
Congratulations to all our winners!! You should have received an email by now about your prize.
If you haven't received an email, please send your full name, shipping address, and telephone number to contests5m4m (AT) gmail (DOT) com by May 27 in order to claim your prize.  Any prizes unclaimed will be considered forfeited and new winners will be selected.