This post may contain affiliate links. Read my disclosure policy here.
As many of you know, last month I had the opportunity to go to Cozumel, Mexico on behalf of 5 Minutes for Mom. I decided to drag my husband down there with me and I'm so excited to finally share what we did and where we stayed!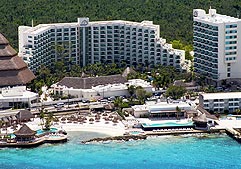 Once we had all the arrangements taken care of on our end…all of two days in advance LOL, it finally felt real, but I have to admit that part of me feels like it was all a dream. I'm a huge advocate for moms and dads to take time every once in a while to get away and spend time alone as a couple, and for us this was the perfect opportunity.
The entire trip was courtesy of Park Royal, Royal Holiday's All Inclusive Cozumel destination. Royal Holiday is a huge chain of "destination club" resorts, but you don't have to be a member to stay with them.
If you've never had the opportunity to stay at an all-inclusive destination before, it is definitely something to go out of your way to do! You will NOT regret it! Never a worry about waiting for a bill or eating at an off time, just come and go as you please and it's all covered. Between the three restaurants (an Italian restaurant, a Mexican restaurant and a buffet restaurant), 2 snack bars and several other bars there was always something to eat or drink and all your needs were met right there at the resort.

Park Royal offers beautiful rooms with amazing views. The photo featured above was taken by me while standing in our room! We spent a lot of time just taking in the view, and since there were windows everywhere (even in the elevator) we found ourselves stopping often from one place to the next in order to just look at all the beauty around us.
Although I think this is simply the perfect location for couples to get away, if you do want to take your family, they do offer a children's area that is available for kids from 5 to 12 years old.
In addition to all of the restaurants within the resort, there was also a private beach and 4 pools…a huge pool in the main part of the resort, a little wading pool in the children's area and two infinity pools right on the water. There's even a gym for those who want to work out and a spa for those who want to really be pampered.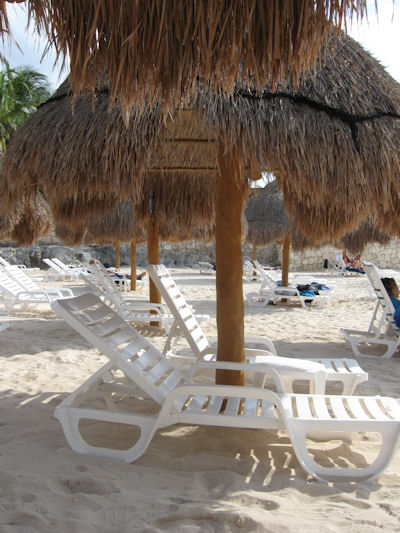 Cozumel is a very interesting location because they have a variety of beaches, with the reef right off the shore in many locations, giving you great opportunities to snorkel, scuba dive and have lots of fun in the water looking at gorgeous tropical fish.
We had the opportunity to go snorkeling and even went on a submarine. I'm not talking about a boat that has a lower deck with windows…nope a real honest-to-goodness submarine that lets you go over 100 feet deep. Atlantis has some fabulous submarine rides right there and it is yet another way to go see the beautiful reef.
The great part about both of these excursions is that we only had to cross the street from the resort to do them! Although they were very fun and I'm thrilled we got to do these things, I also couldn't help but realize along the way that if we had wanted to, everything we wanted or needed was right there at the resort so we really never had to leave for any reason.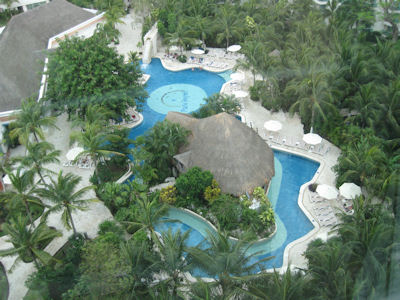 Just for fun, we decided to go into town one day to see what it was like and there were plenty of touristy shops and stops…like Margaritaville complete with a blue chair, Hard Rock Cafe, and wonder of all wonders there was even a Starbucks! Go a little further on though and you'll run into the "old" part of town which is more like traditional Mexico with little shops and lots of bartering. We even got to see a fun little parade of children in traditional dress going down the street, they were so cute!
My husband and I were there for four days and four nights and we really enjoyed feeling spoiled that entire time. The staff is wonderful and very helpful and yes, it was a little difficult to leave.
On March 10, 2009 Park Royal Cozumel won two very important recognitions awarded by RCI: The 2008 GOLD CROWN for keeping the standards of service and satisfaction above the average, based on RCI's members polls and a special recognition to the Sales Department at that same hotel for beating 4000 competitors in sale's volumes amongst RCI's affiliates.
This is a huge honor for them, to receive two awards in the same year is truly remarkable! I have never been to any other Royal Holiday destination, but if they are anything like Park Royal I won't hesitate if I have the opportunity!
I have posted a video of the photos from the trip here and I'll be talking about the trip for a long time to come! The other bloggers who were there with us were Jon Rochetti from The DC Traveler, Trisha Miller from Travel Writers Exchange and Nancy D. Brown from What A Trip.