This post may contain affiliate links. Read my disclosure policy here.
When was the last time you tried on a bathing suit and thought about how great you looked?
I'm not talking about an unrealistic dream of looking like a swimsuit model in Sports Illustrated. But I mean, when did you last put on a swimsuit and think that suit makes you look good?
I'm going to guess that for most moms, trying on swimsuits deals a hard punch to their self esteem. I know for me, there is one store in the mall that I definitely do NOT enjoy visiting. You know the one. It's full of skimpy bikinis and lightweight one pieces that cost a bundle and do nothing but depress you.
Well, a couple of years ago, when I first put on a new Land's End bathing suit, I realized I would NEVER enter a shopping mall bathing suit store again.
In my Land's End bathing suit, I feel good about myself. I'm excited to go to the beach. I'm not scared to be seen swimming.
Last year, a few months after Sophia was born, Land's End asked me to test one of their slenderizing bathing suits that was still in the research and development phase. I jumped at the opportunity.
When the suit arrived, I went to my room with the survey sheet to fill out. I pulled on the suit, looked in the mirror, and literally said to myself, "Wow. I look great!"
Now Ladies, I am far from being toned and in-shape. My flabby middle reveals how long it's been since I was at the gym. Seriously. But this slenderizing swimsuit made me look better. My baby-bearing tummy looked smooth and dare I say 'flat'.
Now, of course, I didn't instantly have rock-solid abs or cellulite free thighs. But I looked my best — my bathing suit best that is. And I felt good.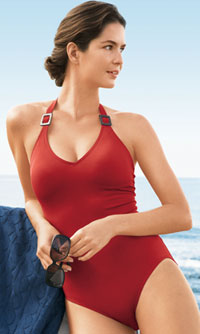 That suit I tested was an early release version of the Women's Regular Solid Enhancing V-neck SwimShape Tank Swimsuit that you see here in red. My sample was black, but if I were to choose now, I think I'd go with navy.
We're talking more about the various styles of these new Slenderizing Swimsuits over at our Land's End giveaway page.
And yes — you CAN win a swimsuit.
Three lucky winners will each win their choice of a slenderizing swimsuit from Lands' End.
Click over and look at the 6 different styles of slenderizing swimsuits and leave a comment on our Land's End giveaway page telling us which style you would choose.
Because, you deserve to feel great in your bathing suit.

Written by Susan, co-founder of 5 Minutes for Mom.