This post may contain affiliate links. Read my disclosure policy here.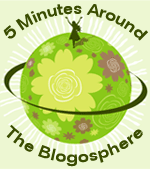 Welcome to our weekly roundup here at "5 Minutes Around the Blogosphere".
As you know, you can come back all week and add a post or giveaway to our Mister Linky. Be sure to check back often, as new links will be added daily. You don't want to miss out on something fun.
ANNOUNCEMENTS
You are invited to Mind the Microwave in May. This is an initiative sponsored by Kitchen Stewardship to encourage people to become more aware of their microwave use and consider alternative options.

In spite of conflicting research on the issue, it seems that if there's a chance microwaves denature food or emit radiation, we ought not expose our bodies (and especially our kiddos) to food that is less-than-healthy if we can help it.

Mind the Microwave in May is a simple, non-threatening Baby Steps Challenge to help you move in that direction. Join in on the journey – there's a fun widget at the site where you can come to tally up your minutes and see the total of all minutes saved for the month.

Soles4Souls Inc., an international shoe charity, is challenging all members of the press to go barefoot for at least 4 consecutive hours during the week and report on its effects to your viewers.

"Barefoot Week" is a unique participation program designed by Soles4Souls and adopted by thousands of supporters as a simple way to raise awareness and funds for the charity's programs.

The Barefoot Week campaign features hundreds of concurrent shoe drives, fun runs & walkathons, retail trade-in events, concerts, festivals and more. Their intention is to collect gently worn shoes from closets around the country while also donating brand new shoes to people in need in five U.S. cities: Atlanta, Birmingham, Portland (OR), Indianapolis and Los Angeles. Supporters include Scarlett Johansson, Antawn Jamison, Jessica Simpson, Kellie Pickler, Arnold Palmer, Amy Grant, Riddick Bowe, Luke Perry and Brittany Snow, among many others.

If you decide to participate, please contact Chris Carmichael at c[email protected] or call (615) 391-5723 for more information.

Household Treasures is hosting a blog party to celebrate the Victoria Day and Memorial Day long weekends. The party runs until May 25th and features at least one giveaway per day!
The significance of a baby blanket is often taken for granted, but research shows that a favorite blanket can be a comforting and soothing transitional object. To help ensure the 2.6 million infants and toddlers living in poverty receive the love and security of a blanket, Toys"R"Us, Inc. has launched a new campaign in partnership with Save the Children called Bundled in Hope. The Bundled in Hope campaign will help purchase blankets for babies in need in some of the most impoverished parts of the country, as well as provide support for Save the Children's early childhood development programs in the U.S. The nine-week in-store and online fundraising campaign will last through July 11. Consumers can donate as little as one dollar in any Toys"R"Us or Babies "R"Us store and online at www.Toysrus.com/BundledinHope, and one hundred percent of the funds raised will benefit Save the Children.

In addition to the monetary donations collected through the Bundled in Hope campaign, there is also an online auction, featuring blankets designed by celebrity moms, including Julianne Moore, Jennifer Garner, Isla Fisher and Kyra Sedgwick. The blankets will be auctioned through July 11 here and all winning bids will benefit Save the Children's U.S. programs.

Also new with the launch of the Bundled in Hope campaign, you can visit the campaign journal called Wrap Session to be updated on the latest campaign news.

Have you heard of Mamaista.com? It's a new dailycandy-like site that features a free daily e-mail newsletter and delivers the
coolest, most useful products and services for babies, tykes, tots and moms. Right now they're also giving away a full day spa to one lucky mama at Elizabeth Arden Red Door Spa!
CONTESTS & SWEEPSTAKES
NESTLÉ CRUNCH® is partnering with KaBOOM! – the national non-profit organization dedicated to bringing play back into the lives of children – to embark on a "Cause for Play." NESTLÉ CRUNCH invites parents, teachers, community organizers and anyone who seeks to inspire children through active play to enter a sweepstakes for a chance to win a residential ready-to-assemble playground, $3500 cash and the opportunity to help designate a $30,000 KaBOOM! playground grant to a deserving community. NESTLÉ CRUNCH® will also make a donation to KaBOOM!, up to $30,000, for every unique donation code found on NESTLE® and WONKA® fun-size bags and entered online as well as an additional $70,000 donation to further the KaBOOM! mission. To enter the sweepstakes and for full rules and details, visit www.NestleCrunch.com/CauseforPlay.
Start building your Amazon Baby Registry at www.amazon.com/baby From now through the end of the year, one Amazon customer each month will win a dream registry which includes the hottest must-haves in apparel, feeding, gear and nursery products from top-name baby brands like Fisher Price, Graco and Maxi Cosi. In addition to winning the dream baby registry valued at over $3,000, Amazon will help take care of one of the baby essentials – a one year supply of Huggies Supreme Diapers!

To participate in the Amazon Dream Registry Sweepstakes, simply create an Amazon Baby Registry, add a minimum of ten items and you'll be automatically entered into the Sweepstakes. For official rules and details visit the websitehere.
BLOG GIVEAWAYS
For Everyone
For Women
Baby Essentials
Just For Kids
Books for Grown-Ups
Books for Kids
Would you like to share a fun giveaway or a worth our while post? Please add it to the Mr. Linky below. You can come here any time this week to add in your link. Don't miss out on the fun. Be sure to visit throughout the week as the linky grows, and more sites are added.
If you would like to have a post on your blog featured in 5 Minutes Around The Blogosphere, please send us an email with the actual link to your post at features5minutesformom at gmail dot com and we'll see if it can be arranged.
You can find Marissa writing away at Mama Sparkles.