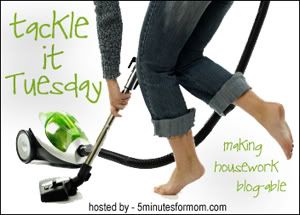 Okay Ladies, a couple of weeks ago, I alluded to my latest kick in the pants to get cleaning. I'm taking part in a fun kind of bloggy cleaning project sponsored by Pledge.
I'm joining with four other bloggers for a cleaning intervention with Trish Suhr. My fellow blogging friends are Katja, Casey, Erin and Jim.
The crazy blogger that I am… I let the Pledge camera crews into my untidy townhouse for a good look into the chaos of my clutter. (The video will be published soon.) And for the next few weeks, on Tuesdays and Saturdays, you'll find me at How I Clean Now blogging about my battle with my mess.
Don't worry, I'll be here on Tuesdays too… I'll be publishing tackles here as I try and follow Trish's organizing and cleaning advice.
(Full disclosure here Ladies… They did entice me to expose my hideous habits with a little monetary compensation. How I Clean Now is sponsored by Pledge.)
Here is an excerpt from one of my recent posts, "Where is Mr. Potato Head?":
"I've tried very hard to get their play space organized, but it doesn't seem to be working. I'm really hoping that Trish can give me some guidance in this area.

As you can see in the photo, I have some bins and drawers for the girls to put their toys away. So we play the clean-up game and put toys into the bins.

But the problem is that all the toys get mixed up and goodness knows where all the pieces of Mr. Potato Head are. Any toys that have pieces get all thrown together.

I know it seems like a simple solution…have them play with one toy and then put it away. But realistically, it doesn't happen that way."
So this particular Tackle is yet to be Tackled. I am waiting to hear what advice Trish Suhr has for tackling these toys.
In the meantime, maybe you can all give me YOUR suggestions.
"So I'm wondering what I should expect of an almost 4 year old and an 18 month old? Should I be trying to get them to keep their toys sorted and only play with one thing at a time?

Is letting them toss all their toys together without keeping the pieces of Mr. Potato Head together teaching them not to value their toys?

I'd love to hear your thoughts and your experiences with teaching children to put away their toys."
Tell me what YOU think…
Please click over and leave me a comment on my post at How I Clean Now.
And then link up back here and show me your tackle.
Would you like to post as a guest tackler? Submit your guest tackles to be featured here at 5M4M. You can write Susan at tackleittuesday at gmail dot com. Remember, we are here to promote your site!
Each week on Tuesday, we are posting before and after pictures of a project or trouble area that we tackled this week.

Find out more about Tackle It Tuesday here.
The project can be little or big – whatever you want.

Basically, Tackle It Tuesday is about giving ourselves incentive, deadlines and satisfaction in getting our household tasks done.

(It doesn't even have to be housework… just whatever is on your To Do list.)
If you tackled a project this week, just add a comment and add your link below.
Happy tackling ladies…