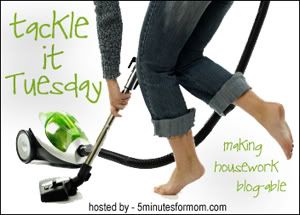 Susan here, reporting for Tackle Duty.
Since our spring sun is starting to heat up my home, I decided it's time to dust off our air conditioner and get it ready for summer.
Now some of you who know I live in the Pacific Northwest might be wondering what I am talking about. It is generally accepted that in our fair temperature climate, houses do NOT need air conditioners. Usually we have only a few weeks a year where temperatures rise above comfort level.
But, when I was pregnant with Julia and living in this small townhouse that heats up like a first-class greenhouse, I decided to forget what the neighbors say. This may not be Houston, but August in this row of townhouses is hot enough to keep me up at night. So we bought a portable air conditioner that is able to cool our master bedroom. Since our girls co-sleep, we all sleep soundly all summer.
In the spirit of spring cleaning, I pulled off the filter and took a look.
Yuck. Sooooo much dust. Hard, caked-on dust.
I washed the main removable filter which is a quick and easy job. (During the summer, I routinely wash that filter.)
I wiped down machine and scrubbed the accessible parts with a toothbrush.
But the problem was the actual machine was full of dust. I forgot to get a before photo of the back of the air conditioner where the worst of the dust build up was. The photo here is actually an after photo. Pretty sad.
I tried to vacuum it out. A ton of dust did come out, but lots remains. I tried to scrub it out with a toothbrush, but it didn't work very well. And still a lot of dust is stuck in there. I'm not too happy that we're going to be breathing in that dust, but I'm not sure what else to try. I guess I need a super high powered vacuum.
Oh well, at least for now it is much better than it was… so I will declare it Tackled
Join me next week as I tackle another corner of my untidy townhouse.

If you could choose to stop toxins from entering your children's foods and drinks, then wouldn't you? – Noplastic.ca


Would you like to post as a guest tackler? Submit your guest tackles to be featured here at 5M4M. You can write Susan at tackleittuesday at gmail dot com. Remember, we are here to promote your site!
Each week on Tuesday, we are posting before and after pictures of a project or trouble area that we tackled this week.

Find out more about Tackle It Tuesday here.
The project can be little or big – whatever you want.

Basically, Tackle It Tuesday is about giving ourselves incentive, deadlines and satisfaction in getting our household tasks done.

(It doesn't even have to be housework… just whatever is on your To Do list.)
If you tackled a project this week, just add a comment and add your link below.
Happy tackling ladies…