This post may contain affiliate links. Read my disclosure policy here.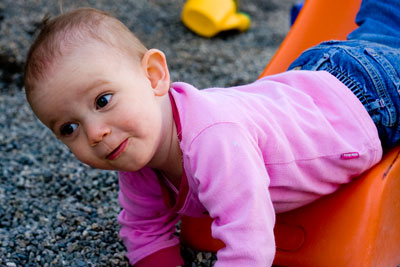 Olivia — there's more than one way down a slide!
Olivia is enjoying the playground at Susan's townhouse complex. It is small – but then again, so is she!
We are blessed to have a few different playspaces all within walking distance of our homes. As moms we know how important playgrounds are for kids and so we're helping a charity organization called Kaboom find out what communities do not have enough playspaces.

You can help too. It is so easy… and it's a great way to support a charity without having to open your wallet! For every playspace our team submits, Julianne Hough will donate $1 to FirstBook.org.

Join the 5 Minutes for Mom Kaboom Team and tell their website where your local play spaces are. Team members who submit the most spaces will be featured here at 5 Minutes for Mom.

Also you can create a play-inspired post on your blog and show it off by signing the Mr. Linky over at this post by our 5 Minutes for Mom Kaboom Team's head cheerleader, Kristin or sign it over on our Kaboom Team Page. Pledge your support of the 5 Minutes for Mom Kaboom Team and visit the other team members posts.

If you could choose to stop toxins from entering your children's foods and drinks, then wouldn't you? – Noplastic.ca


Now it's your turn… add your Wordless Wednesday link below.
(Please click on the read more link below to get to the Mr. Linky. Due to the Mr. Linky slowing down our home page loading, we have moved it off the home page.)
Written by Janice.
Remember to sign up for our RSS Feed.