This post may contain affiliate links. Read my disclosure policy here.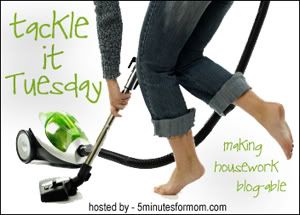 Susan here…
Okay, this tackle was a quickie, but a tad profound… read on.
I am shockingly blind to clutter.
Stacks of this-and-that can pile up and I barely notice.
Sometimes I try and force myself to walk in my own door and try to see my house as a guest to jar myself into action. To try and realize that clutter has accumulated and that it must be cleared.
So today's tackle did not take me much time. I admit it. But I think that is the power in this tackle.
It took me 15 minutes to clear off this counter and sideboard and yet I let myself feel like a failure for days because I know that the clutter exists and that it shouldn't. Even if I am rather immune to the mess, guests see it and my family sees it, and it doesn't need to be there.
Yes, I am a little crazy in that it takes a blogging deadline to force me to put away the pens, papers, toys, gadgets and junk that have piled up on my counters… but oh well… call me crazy.
(And then join me. Cleaning is so much more fun when we do it together!)
Cluttered Counter
Tackled!
Join me next week as I tackle another corner of my untidy townhouse.
Would you like to post as a guest tackler? Submit your guest tackles to be featured here at 5M4M. You can write Susan at tackleittuesday at gmail dot com. Remember, we are here to promote your site!
Each week on Tuesday, we are posting before and after pictures of a project or trouble area that we tackled this week.

Find out more about Tackle It Tuesday here.
The project can be little or big – whatever you want.

Basically, Tackle It Tuesday is about giving ourselves incentive, deadlines and satisfaction in getting our household tasks done.

(It doesn't even have to be housework… just whatever is on your To Do list.)
If you tackled a project this week, just add a comment and add your link below.
Happy tackling ladies…