This post may contain affiliate links. Read my disclosure policy here.
Susan here… back again this week for tackle duty.
As many of you loyal Tacklers know, Janice created Tackle It Tuesday back in 2006 to help her dig herself out of a houseful of clutter. Over the years I have stepped in for some tackles here and there, and recently we've had various guest tacklers and two dedicated resident tacklers helping us all get motivated to blog our way out of our household challenges.
But lately my house is in need of a whole lotta tackling, so I'm heading up the Tackle Team here at 5 Minutes for Mom this spring.
Last week I revealed to you all my shocking confession of how my daughter's should-be bedroom has become a laundry room disaster.
Mostly I don't mind living in a tiny townhouse. I love how social it is here and I don't really NEED a lot of space. But one thing I'd really like to have is a spacious laundry room where I can without guilt sort laundry on the floor and stack up piles of folded laundry.
In my narrow little home, we have no dedicated space for laundry and so it takes over like a weed and spreads where it doesn't belong.
(Yes, I know that is my fault… but still… I long for a laundry room like my mother had in our basement while we were growing up.)
So last week I showed you where my piles of dirty laundry end up…
Well, here's where my stacks of clean laundry pile up. And sit. For far too long because I somehow am blind to the piles as I walk past with my arms usually loaded down with a toddler and a preschooler still begging to be carried to bed.
Again I have Mommy-Guilt over my children seeing me leave stacks of clothes piled around.
So for this week's tackle, I am finally putting away these stacks of clean laundry that become a permanent part of our banister.
The Persistent Piles of Folded Laundry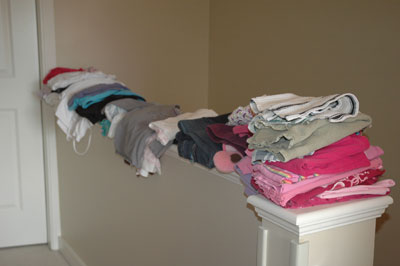 Tackled!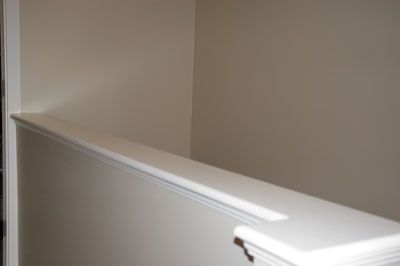 Done. One more small step towards easing my Mommy Guilt.
Join me next week as I continue to chip away at my (rightfully earned) Mommy Guilt.