This post may contain affiliate links. Read my disclosure policy here.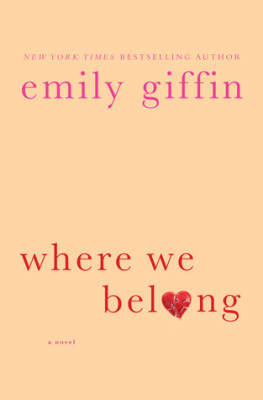 How do secrets, squirreled away and hidden from our nearest and dearest, affect our relationships? How do they change us, the people we become, as a result of the choice to deliberately hide things? Where We Belong
is a story that looks at how the answers to these questions might play out.
Marian's life seems picture-perfect; her TV show is a modest hit, her boyfriend is rich and gorgeous, she has a flat in Manhattan and it's spring. She and her boyfriend have a spat—she brings up marriage and he's not ready—and she goes home to put on pyjamas and sulk. When the doorbell rings, she assumes it's Peter and opens it. The girl standing on the doorstep is the child she gave up for adoption 18 years earlier.
That's the first chapter and I was totally hooked. Marian got pregnant the summer after high school graduation. She took a year's deferment from college, gave away the child and told no one except her mother—not even her own father, with whom she'd always had a specially close relationship. She has never mentioned it to her closest friends or to Peter, who she's on the verge of marrying. Peter does come over that evening after all, and is flabbergasted that Marian never mentioned this to him.
Meanwhile Kirby, the child, is standing on the doorstep. Just 18, she has had a good childhood overall, although she's always felt unlike the rest of her family, a normal mid-western family consisting of mother, father and sister born to them a year after Kirby was adopted. Kirby isn't quite sure what drives her to call the adoption agency just after her 18th birthday, and then what further drives her to lie to her parents about where she's going over spring break and to show up announced on her birth mother's doorstep. But it sets in motion events that will bring a measure of healing to both families, as truth is brought to light and things that were hidden are revealed. Truly, Marian finds, the truth will set you free.
Where We Belong
is told in several voices; current Marian, 18 year old Marian, and Kirby. The action moves back and forth from Manhattan to St. Louis, and from the present to the past. Giffin's style is easy to read, and she writes emotions very well—the complicated and messy ones that comprise so much of real life. Kirby's character is wise beyond her years in some ways, yet at the same time she's a typical teen. As Marian struggles to come to terms with all that she gave away when she made that fateful decision to not tell a soul, we root for her even as we occasionally wish we could give her some advice.
Where We Belong
is the first book I've read by Emily Giffin, and I enjoyed it. It'd be a great book to read pool-side or on a trip. I also had the chance to interview Emily; check out our sister site at 5 Minutes for Books on Monday to read my interview with Emily Giffin.
And so, I'm delighted to tell you that we're giving away a copy of Where We Belong
. Please follow the instructions in the Rafflecopter below to enter. New to Rafflecopter? Watch this 45-second video on how to enter!
The winner of The Next Best Thing is #245 James Coyne.
Elizabeth knows that secrets shouldn't be kept from one's beloveds, but she still doesn't like it when people read her journal. But that's different, right? Learn more at her blog Planet Nomad.