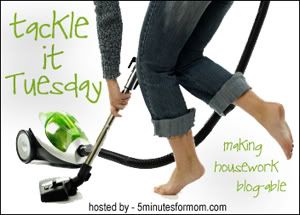 This week our resident tackler, Jena Webber, is posting about making a work-friendly area.
Jena, also known as the organizing mommy, blogs at Organized Everyday.
In the craft room/ playroom, I had really let things slide. I have this one corner of the room that held this:
Functional, yes. Pretty, no.
I don't know about you, but if the space is not pretty and inviting, I just don't want to be there. I'd rather just go somewhere else. Sooner or later, our entire house gets to be something we want to move away from rather than dwell in, if we do not get control of the space.
Getting control of the space, no matter how small, is key to organization. Once you have conquered a small corner of the house, you feel more relaxed and in control of your world.
I moved a desk in that area. Here is what I was thinking: I want it to look pretty at a glance. So, I went around the house looking for nice baskets. Everything was going to be contained in a little baskets. I didn't go out and buy anything–just corralled the basket army that was already existing.
Quite honestly, I'm still working on what I want in each basket. So far, I have writing utensils in one basket. I have ironing supplies in another. I have some letter writing supplies in a different one.
The last touch was recycling these small chalkboards to have inspirational words on each one.
NO CLUTTER
CREATE
INSPIRE
FOCUS
Speaking of focusing, I'm always thinking of new ways to get the most productivity out of ourselves, so we can have MORE time for our families and doing things we love.
All work and no play makes for a very dull mommy. But no work at all makes for a very stressful home. The desire for the balance between these two things is what I call the BLITZ. The blitz is a very intensely focused hour of work, attempting to encourage increased focusing abilities. Last week's blitz.
I hope you will come and join us this Friday for another fun blitz.
Speaking of Blitz, my life has been a little overcrowded with activities. As much as I have enjoyed being the resident tackler for 5 minutes for mom, I'm passing the torch on to another hard-working Mom out there. It's been a pleasure working with Janice, Susan and Erica. They are so professional and hardworking. Thank you for letting me do this! Don't worry too much, though. I'll be back often as a guest tackler. If you miss me, come and see me at my blog once in a while: Organized Everyday. hugs.
Would you like to post as a guest tackler? We are officially running low on guest tacklers!! Did I lose someone in the email shuffle? Send me another email if I have forgotten you.
So make sure you submit your guest tackles to be featured here at 5M4M. You can write Jena at tackleittuesday at gmail dot com. Remember, we are here to promote your site!
Each week on Tuesday, we are posting before and after pictures of a project or trouble area that we tackled this week.

Find out more about Tackle It Tuesday here.
The project can be little or big – whatever you want.

Basically, Tackle It Tuesday is about giving ourselves incentive, deadlines and satisfaction in getting our household tasks done.

(It doesn't even have to be housework… just whatever is on your To Do list.)


If you tackled

a project

this week, just add a comment and add your link below.

Happy tackling ladies…