This post may contain affiliate links. Read my disclosure policy here.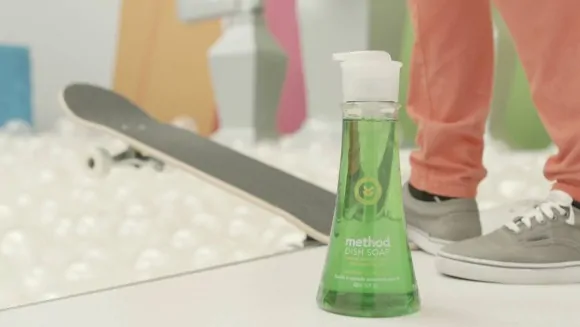 How Method is being kind to noses everywhere…
Loving Method is so darn easy. Method is like one of those friends who is just all around awesome — fabulous, fun, and kind down to their core.
It is funny that I get all happy when I talk about Method cleaning products. Cause really — I don't know many people who hate cleaning and doing the dishes more than I do.
So, when I wash my dishes, I want more than to just clean dishes. I want to be transported to a sweeter smelling place — somewhere that matches my personality. And when I finish doing the dishes, I want that sweet smell to linger, making me happier just by being there.
BUT, I don't want to be breathing or touching any nasty chemicals. As much as I hate cleaning, I hate having harmful products in my home! So ya — I want it all. The great smell, the great style, in a clean formula and clean packaging.
Method to the rescue…
Method specifically excludes phthalates from its formulas and chooses packaging materials that do not contain phthalates. So you can be sure that none of these sneaky chemicals will find their way into your home from any of Method's products. Phthalates are softeners used in the process of manufacturing plastic, and they've been found to disrupt a person's endocrine system functions. Instead of using potentially harmful chemicals, Method's dish cleaners include derivatives from coconut oil, aloe vera, and purified water. And Method's natural dish formula comes in a pump design for squirting directly into the sink or onto the sponge, minus the drippy mess.
In their quirky new video, Method shows how to "Give Your Nose a Hug:"
The Nose Knows! Win a Year's Supply of Method Dish Soap


Are you a sweet clementine? Or are you feisty like sea salt + lime? Take a dishy personality test on Method's Facebook page to find out your signature fragrance, and enter a sweepstakes to win a year's supply of Method dish soap at the same time. Residents in the US and Canada (excluding Quebec, désolé!) are eligible to enter once through the Sweepstakes app on Method's Facebook page. Contest is open from July 10 to August 6.
Please Note: We are working with Method in their Method Mavens ambassadorship program. But my love for Method has nothing to do with contracts — it is all mine.
If you want to shared the love, we would love it if you gave it a Stumble, Tweet, Pin, or Facebook Like. Thanks so much! We really appreciate your support of 5 Minutes for Mom.
Written by Janice Croze, co-founder of 5 Minutes for Mom.
We want to get to know you better — Tweet with us: @5minutesformom, find us on Facebook: Facebook.com/5minutesformom, or join our newsletter list.